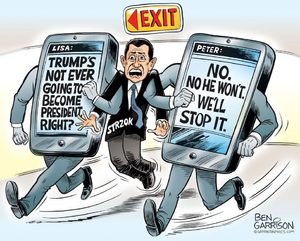 Strzok has left the building
What is truth anyway? The truth is the essence of something, its natural state, something as it really is. For me, it is really a quest for love, because to truly love something I must know it for what it really is. Perhaps we can sense in an unconscious way that there is a deeper truth to everything and everyone, and we are led to search for the truth about it, so that we can truly love it for what it really is.
- Joe Quinn
Recent Comments
According to the understandings of Delamer Duverus, we are all, every one of us, part of the Speciel Mind of humanity. We are actually the 4th...
---
What about the complex dedicated towards criminalizing behavior not harmful to others, and then ever increasing the penalties for it, with the...
---
obviously old news. us have been the biggest sponsor of death and rape for decades. the epicenter of shit and fart.
---
So they're finally implementing Plan Varoufakis. This is exactly what he said needed to be done years ago - 'fiscal transfers' from 'center' to...
---
One side is light, the other is matter. That's the bioinformatic interface.