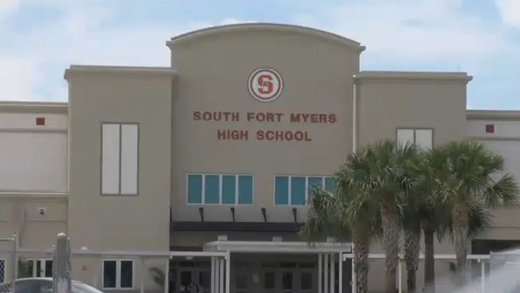 Comment: Children and young adults are being sexualized very early in life. Sexual imagery is everywhere and beamed into households every night. It's tragic to witness the continuing decay of our society because of the depraved leadership of psychopaths.

See also:
South Fort Myers High School officials believe as many as 25 boys had "inappropriate activity" with a 15-year-old female student inside of a bathroom on campus Tuesday.
Students told
NBC 2
the incident occurred in a girl's bathroom after classes ended and involved the school's football team.
"A bunch of football players went into a room with a girl and had sex with her, and a bunch of the football players were suspended," student Alex Bailey said.
"So we might not have a football team this year."

Comment: Not having a football team is the least of the problem.


Students contend participants recorded the encounter.
Principal Melissa Layner learned of the incident and contacted Lee County Sheriff's deputy Jarrod Cantrell, the school's resource officer.
Cantrell recovered surveillance video from the school hallway showing "25 male students go inside the restroom over the time-frame of a female being inside the restroom," according to a police report cited by the News-Press.
Layner said the female student "confirmed she had sex with a number of willing males."
Officials contacted the special victims unit and the Florida Abuse Hotline, took sworn statements from students, and confiscated a student cell phone. District spokeswoman Amity Chandler said students were involved in an "inappropriate activity" and were disciplined,
but refused to provide details
, the
News-Press
reports.
"We are not going to discuss discipline in any capacity, including numbers," she said. South Fort Myers sophomore Ashley Shimko was dumbfounded by the revelations. "It's like one of those things where you don't ... really ... it's just crazy," she told NBC 2. "I never thought that would happen."
Others at the school Wednesday were equally as shocked. "I've just heard that they were all filming it and I just think it's really wrong. That shouldn't have happened," said resident Lisa Purnell. "They locked themselves into the bathroom."
Parent Kevin Ware said the district's silence leaves him with a lot of questions.
"That is unbelievable. I can't believe it. It's terrible," he said. "We need to know what was going on during school. Why are the kids out? Were they supposed to be in class? Where were the teachers? A thorough investigation needs to be done.""I feel for the little girl and I feel for her parents," Ware said. "It's just sad."