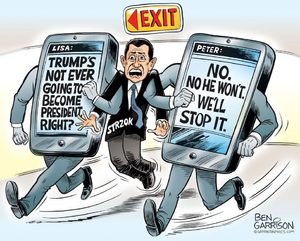 Strzok has left the building
What is truth anyway? The truth is the essence of something, its natural state, something as it really is. For me, it is really a quest for love, because to truly love something I must know it for what it really is. Perhaps we can sense in an unconscious way that there is a deeper truth to everything and everyone, and we are led to search for the truth about it, so that we can truly love it for what it really is.
- Joe Quinn
Recent Comments
I agree with Ruth. The question of the headline "Could the US" become ungovernable" presumes a lot of unstated things and is thus a 'loaded...
---
dude, the oil came from the land in the first place. The name for that sort of argument by specious segue that escapes me just now . . . yeah, it...
---
SOTT FOLKS. IT sounds like this relatively informed and open minded mom ignored symptoms she should not have. My job and interests have brought me...
---
This show was not as great as the last show... that's the best compliment I can give, I'm working on my agreeableness. lol Only ever read a very...
---
God what a mess. How does the land recover ? ?