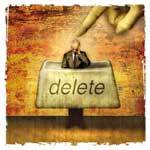 We all know stories of qualified and skilled people who can't find work or who are passed over for promotion when someone who specializes in office politics gets the nod. This situation is another example of the insider/outsider dichotomy I discussed in
my last article
. It not only applies to Washington, it also applies to the facts and events of our daily lives. How many Americans are working for companies that are "offshoring" jobs to India and China? Ordinary people are on tenterhooks with the announcement of each round of layoffs while management have that glassy-eyed glare of bigger stock options and pay-offs when the year's profit margins improve and stock prices soar.
One of the consequences of such policies is that society loses the input and skills of its most gifted members. Positions that could be filled with people capable of bringing creative and thoughtful solutions to problems are instead filled with individuals whose only skill is the ability to play the game. They are often mediocre or incompetent and get others to do their work for them, while they, of course, claim the credit. Society as a whole loses as this great wealth of creativity is wasted.
But the losses are not only seen on the larger scale; they hit home more directly in the lives of those laid off or who live in a permanent state of fear.
Here are some quotes from email I have received recently describing just this. One correspondent wrote:
Some life, being on the treadmill constantly trying to outrun 'redundancy'. I do not like where the 'new world order' has been herding us. A century ago I would have lived my entire life doing what I spent years training for in the first place.
Think about that. Think about what an important shift such a change is in our lives and how it affects all of us, how it puts us in a permanent state of anxiety over the future. We can spend thousands of dollars on an education and have no assurance whatsoever that we will even be able to find employment in our chosen field. Think about your fathers or grandfathers who may have had a job doing the same work throughout their careers and who believed that their children would have the same choice.
If the shift just described isn't enough to leave us anxious and insecure, what about the nefarious policy called by that whitewashed label "outsourcing" and "offshoring" of jobs?
Another correspondent writes:
I mentioned impending layoffs at my software-corp employer recently. I survived, but some good performers were let go. "5% company-wide" translated into more in some areas and less in others, up to 25% in some. People in my office are shaken. Others remind me that layoffs always result in additional staff leaving and that management often actually intends and wants this.

Disturbingly, it was let out in advance, in confidence to some people, some of the names of those to be laid off. I wonder if it was to see if secrets could be kept.
Then, a few weeks later he wrote back to fill me in.
.. ah, but it's not over. The cuts made up the dollar shortfall last quarter, but the execs dropped new bombshells last week. First, they laid off a couple of VPs unexpectedly. Next day, they told to the company they *must* raise profit margin to avoid hostile takeover attempts, so they'll begin "aggressively offshoring" as many positions as possible, and that "some people will lose their jobs."

The company's offices in India and especially China will grow. The CEO said he should have done it long ago. This is risky because it puts a pall over everyone for months to come. Multiple people I know resigned in the wake of this announcement.
You have to wonder whether or not this permanent state of anxiety is one of the goals of these policies and these announcements. Read through this explanation of
Transmarginal Inhibition
and see if it doesn't describe what is happening to the work force in the United States and elsewhere. Pavlovian shock methods are being used to soften us up and prepare us for the next blow. The regular "terrorist" alerts issued following 911 serve the same purpose.
The correspondent continues:
One woman who identified herself as working in Accounts noted that every department was cutting costs to the bone, but wanted to know why the execs didn't -- she asked them why they constantly put in for approval of "budget exceptions" on their expense accounts that were approved without question, even though she felt they were unnecessary. Their answer was simply that, "we try to stick to budget, but sometimes exceptions are necessary."
Ah, yes, "sometimes exceptions are necessary". And we know where these exceptions are always found: benefiting the insiders. Which reminds me of a story told to me by an Irish friend a few years ago. The day after the same type of "out-sourcing" layoffs were announced at a company in Dublin, the CEO drove up to the office in his brand new BMW 500 series car, expensive enough to pay the salary of several employees. Back then the process was called down-sizing.
So "exceptions are necessary", even in other countries. The infection crosses national boundaries, and the woman who had the courage to speak up very likely will lose her job. But isn't it better to take a stand?
The problem is, these kinds of schemes are inherent in the logic of a system that values economic results over the lives of those doing the work. The faulty premise is that the good of the people is taken care of by the "invisible hand" of the marketplace, which boils down to, somehow, things will just take care of themselves, with the caveat: as long as you are industrious and are willing to work. You all know the great American myth that anyone can be a success, that anyone can be president.(1) This great American myth about individual success puts the burden of failure squarely on the individual. Failure is never the fault of the system or the people who benefit from the system. It is always
your fault
.
Convenient, isn't it? Do you think it is only a coincidence?
So how does one learn to benefit from the system, or, in other words, to succeed? By mimicking those who have already attained some success. And how does one do that? By becoming ruthless, back-stabbing, and only looking out for one's own interests. In other words, one must become sick to survive. One must encourage the propagation of the virus of pathological thought processes within oneself by killing any manifestation of consideration of others that might prevent you from getting what you want or what you have convinced yourself you deserve. Once the values of the insiders become the values of society as a whole, once their distorted and inhuman way of seeing the world becomes the accepted way of seeing and understanding the world, the only way to succeed is to become like them. You could call it the
Stockholm Syndrome
on a societal level.
An important element in this pathological way of viewing the world that one must internalize in order to succeed is the acceptance of the various false divisions that the insiders promote in order to hide the fundamental insider/outsider divide. Think of how race, nationality, language, and religion are all used to sow dissension and discord among outsiders. Do you think this process just happens by chance? An example that is prominent now is the question of illegal immigration and what to do with the long border joining the United States and Mexico. We see a vehement discussion on the need to close off America's borders.
But, really, what group is the problem here? Is it the Mexican workers who come to the United States, or is it the insiders who claim the vast majority of the wealth and resources for themselves? And to what extent are the insiders responsible for the large migration of workers into the US through decades of injustice and exploitation of Mexico by US corporations in collaboration with corrupt Mexican politicians and officials? And that holds for other countries in Latin America and the world. Do you think that these people would leave their homes and families if they could make a living where they were? Would you?
Which raises another question: What do you want out of life?
Probably security, as in having a home and enough money to get by, is high on the list. A safe place to raise your kids and a satisfying job that leaves you time to do other things than work and pay the bills would likely also have a place. Those are the needs and desires of normal people everywhere. Someone with a healthy psychological profile doesn't need large sums of money that he or she will never spend. He or she doesn't need multiple houses. He or she wants a job that is rewarding and satisfying and that provides enough income to pay his or her way and provide for his or her family. He or she wants to live in peace and security and not see a son or daughter go off to fight in a war overseas. He or she doesn't want to see a home-grown, para-military police force patrol the streets of their hometown, such as we saw used against the people of New Orleans after Hurricane Katrina, much less the thousands of foreign troops.
The Mexicans that come to the US want the same thing. Their goals are the goals of normal Americans. They share the goals of ordinary people everywhere. The ordinary Muslims, who we are told are the source of all of the problems in the Middle East, also want the same thing. So if this world of peace and security is what we want, why are we so far from achieving it?
We are told that it is because we all have a dark side, the animal part of our nature that breaks out every so often and wreaks havoc and destruction. In response to that, I would ask each of you, do you not see a difference between a violent act that comes out of the heat of emotion and a violent act that is coldly planned in advance? Would you be capable of planning the destruction of another country, including the deaths of over 1 million people, in a cold and rational manner, with the same emotional detachment that you would draw up the plans for the construction of a house? If you were running a profitable company, would you be capable of eliminating the jobs of thousands of workers, creating anxiety, suffering, and distress, simply to increase your profit margin by a few percentage points?
The insiders can and do make their plans in this way. They have no qualms about it. Their violence, be it physical or psychological, is not born of stress or overworked emotions. It is emotionless and calculated. They then invent slogans, theories, and excuses to justify their deviant plans, convincing us that it is done in the name of freedom and democracy or because there is a threat to our security.
The real threat to our security comes from those who can calmly make plans for war.
If normal people, ordinary people, were able to get beyond the divisions sown by the insiders and unite to claim what is rightfully ours, power and control over our own lives, the insiders would be where they belong: on the outside. Why should a small percentage of the population control the vast majority of the wealth? Why should they have the control over life and death decisions that concern the majority? Why should they impose their cold and calculated view of the world on those of us who value human contact, experience, and intimacy over money and power?
Whatever justification or rationalization springs to mind as you read these words has been implanted within you by people who do not have your best interests at heart. It is not their sons and daughters who are in Iraq. It is not their future that is put into jeopardy through downsizing, offshoring, and outsourcing. Using the media, these justifications and rationalizations are repeated over and over again until we accept them at face value, until we begin to think like them.
Certainly, groups subjected to injustice have tried to unite in the past. The problem was they were uniting over the wrong rallying point. Class, religion, nationality, none of these strike at the root of the problem, and therefore they can only go so far in achieving a working unity. The one issue that touches the root is that of conscience. How do you treat your neighbor? How do you treat your family? Moreover, without an understanding of psychopathy and other pathologies, it was easy for these types to join such movements and eventually turn them away from their original aims. People who are incapable of putting themselves in another's shoes, of genuinely feeling what it is like to be in another's position, are incapable of forming any lasting unity because they can never place the interests of someone else before their own. They are never capable of true compromise, that is, compromise that doesn't come with the baggage of self-righteous sacrifice or deep-seated and hidden resentment and their subsequent plans for revenge or retribution.
The fact of the matter is that our lives are controlled in almost every aspect by decisions over which we have no say, be it political decisions by the insiders in Washington or other centers of power, economic decisions by our bosses whose goal is to maximize profits at the expense of providing secure working environments for their employees, or decisions over what it is permissible to think and what ideas will be drummed into our heads through the media, to name but a few. Normal people, ordinary people, people of conscience live in an environment that does not express our inner nature, that is not the manifestation of our ability to empathize and care for others, and until we become aware of this fact, we, too, are infected. How will we ever be able to create a different world if we do not root out the insider virus that has taken root in us?
(1) Well, looking at Bush, that second phrase is true in a certain sense. Even someone completely unqualified to lead the US can become president, but you know that is not what I mean.
Continue to Part 3