About Gaby
Name: Gabriela Segura, M.D.

Dr. Gaby was born into a mixed Eastern-Western family in Costa Rica and she is a countryside family medicine doctor and former heart surgeon. Her research in the medical field, the true nature of our world and all things related to healing have taken her to Italy, Canada, France and Spain. Gaby is co-host of the 'Health and Wellness' show on the SOTT Radio Network and her writings can be found at The Health Matrix.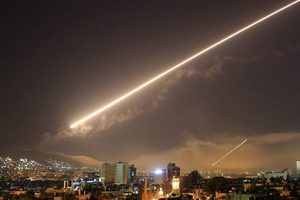 Syrian air defense systems protecting Damascus - the oldest continuously-inhabited city on Earth - from Western airstrikes, 14 April 2018
All truths are easy to understand once they are discovered; the point is to discover them.
- Galileo Galilei
Recent Comments
Ther always China as a supplier. How can U.S. foreign policy wonks miss the fact that their 'sanctions' only serve to strengthen the economies...
---
This is so much BS. First, that agency is obviously a great place for a wanna be power mad murderer should find a job. But there are legitimate...
---
I hope its Judge Judy they have to stand in front of when the case is presented...........LMAO.............."Look at me Ms Clinton........do I...
---
Yes, but certain U.S. authoritories may have intended the outcome. It appears American military commanders negotiated with the Russian what...
---
Until the day that every car in Europe is made in America, the EU will be considered a threat to US national security Best time to stop bending...