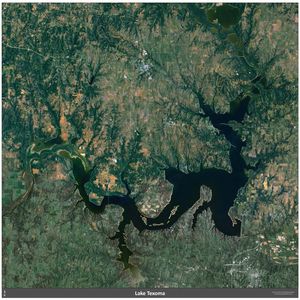 Lake Texoma -- Bryan County residents and first responders were in for a scare Saturday night when they received reports of a plane crashing into Lake Texoma.
Grayson County received a 91-1 call last night reporting a plane crashing into Lake Texoma. After investigating, authorities found what appeared to be a fiery crash may have been a meteor falling from the sky.
When the Grayson County Sheriff's Office received a 9-11 call Saturday night reporting a plane engulfed in flames crashing into Lake Texoma. A mutli-agency investigation was launched.
According to Deputy Vinny Cacace, " Bryan County Sheriff's Office, Cartwright, Colbert fire, Colbert Police Department, Lighthorse Police Department, Emergency Management, Denison Fire of course launched on their side and Grayson County, Marshall County did the same as well."
The responding agencies used all resources available to them to locate the reported plane.