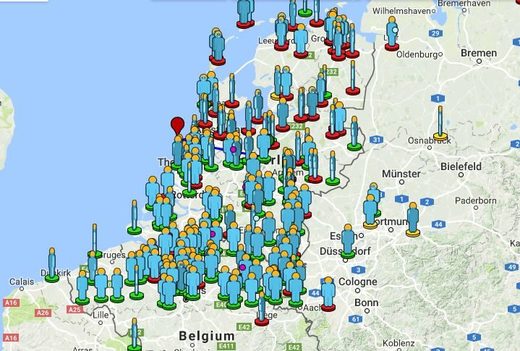 The American Meteor Society (AMS) has received over
400 reports
about a fireball seen over the Netherlands as well as neighbouring Belgium, France and Germany (Grand Est, Noord-Brabant, Noord-Holland, Limburg, Nordrhein-Westfalen, Groningen, Gelderland, Vlaanderen, Zeeland, Zuid-Holland, Friesland, Flanders, Utrecht, England, Drenthe, North Rhine-Westphalia, Bruxelles, Overijssel, Niedersachsen, North Holland, Bayern, Flevoland and Île) on Thursday, September 21st 2017 around 19:01 UT.
From
De Limburger
, "Just after nine I saw a huge meteor above Heerlen," says Martijn Dassen. "A very fierce fireball that pulled a track behind. I did not hear any noise, but the sky lighted up. The fireball seemed to break in two before disappearing from my field of view behind the APG building."
The fragmenting meteor fireball was
captured
by the Leiden Observatory telescope.