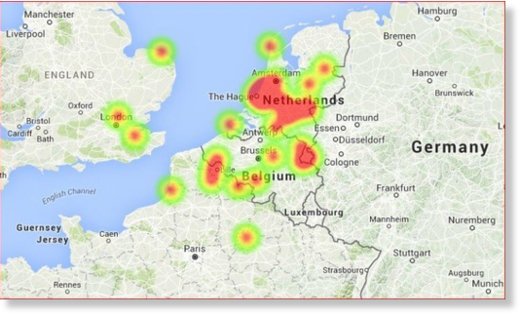 Shortly after midnight on Saturday March 26, 2016, a meteor fireball was
spotted over the Netherlands
, from Amsterdam, Rotterdam, Cuijck, Pijnacker and Zoeterwoude. The fireball was reported to have a blue bright color, while others recalled a green color. It was also witnessed in Belgium, the UK, and northern France.
"It looked like the blue light of a police helicopter, but it moved too fast and too diagonally," a resident of Rotterdam
said
. Readers of the Dutch 'Astroblogs' website
reported
seeing a 'green, luminous phenomenon'.
Another reader, Remco Haring, reported seeing something passing by 'for two seconds', and which 'ended in a green or blue light'. Haring described it as appearing to have 'consisted of multiple parts', indicating that the meteor fireball disintegrated into fragments.
One witness from Zandhoven, Belgium, reported:
I also spotted this meteor unexpectedly. I was watching television last night in the living room and suddenly saw something moving through the window, I looked outside and saw the biggest meteor that I've ever seen. It moved quite slow and disintegrated in dozens of pieces. Its color seemed to me to be more yellow to orange. The direction I was looking at was the west. It was beautiful, but I was concerned about the sonic boom and opened the windows for a couple of minutes for the blast wave that luckily didn't hit.
Extreme weather website
Noodweer Benelux
asked
Twitter users whether they had seen the fireball in the Netherlands or Belgium. User @jesse_zee replied with a picture saying: "This [picture] was taken from a short video that was made in a car":
The following clip of the bright fireball was recorded by the Cyclops Observatory of Klaas Jobse in Oostkapelle: