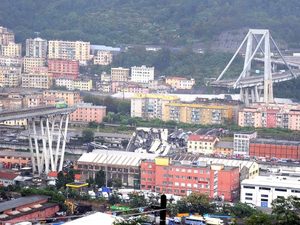 14 August 2018: Morandi Bridge in Genoa, Italy, collapses during a storm, killing 35 people
Shared pain is lessened; shared joy, increased - thus do we refute entropy.
- Spider Robinson
Recent Comments
LOL. I lived through that whole Rave period in London when I was, at least from a pharmaceutical point of view, one of the only more-or-less sober...
---
It's apparent that Ukrainians are currently targeting business centers with their weapons. It's my opinion that the UN should move in and strip...
---
Well, 'banned'? "It will no longer certify gender studies courses." Does Germany, f'rinstance, still certify Aryan studies courses? Or are they...
---
Greece is already flooded with immigrants and the Germans are planning to send us some more ? WTF !!! ??? :'(
---
I agree with the comment. We are capable for the best and unfortunately the worst. If we could just control the bad side in us we would get along...