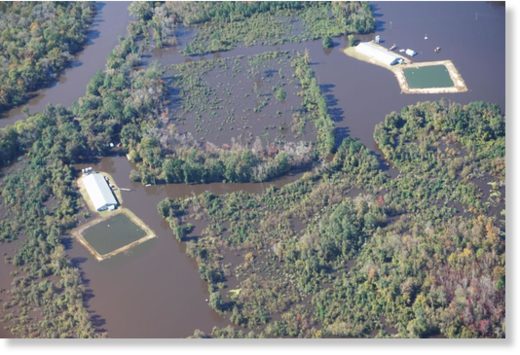 For Chris Smith, whose North Carolina farm is home to 30,000 chickens and 150 acres of sweet potatoes, the fight to survive Hurricane Florence is not yet over.
As torrential rains from the storm filled local waterways and flooded nearby roads, Smith, one of hundreds of local farmers in a state known for its poultry and hog operations, found himself cut off from supplies, power and any way to move his birds out.
The ferocity of the storm was surprising, according to Smith. "We thought we weren't in a flood-prone area, but we had a pretty good scare," he said. He rationed the feed he had on-hand as best he could, and used 250 gallons of diesel per day to keep his generators running.
Now Smith, who counts himself lucky that his flock survived, is looking to quickly move his chickens to processing plants before the weekend, when more showers are forecast and the nearby Neuse River may flood further. He's not alone.
Seeking to minimize deaths from a storm that's already killed millions of animals, farmers are turning to helicopters, boats and heavy trucks to supply farms stranded by flooding and debris.