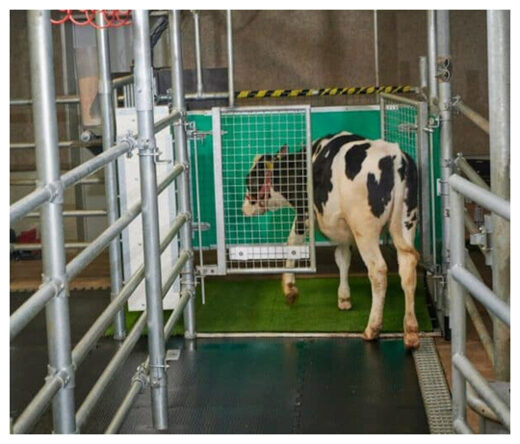 Cows contribute massively to global emissions because of the greenhouse gases they produce. We're not talking hot air here. It's the No. 1s and No. 2s. Which is why potty training can be part of the solution.
On farms, cows graze freely, but that also means they poo and pee freely too. Unfortunately, this waste often contaminates the soil and waterways.
On the other hand, keeping cows in barns causes their urine and faeces to combine. This releases ammonia, which leaches into the soil where microbes convert it to nitrous oxide - the third most impactful greenhouse gas after methane and carbon dioxide.
To get around this, researchers from the Research Institute for Farm Animal Biology (FBN), Germany, and the University of Auckland, came up with a novel solution:
a potty-training program for cows.
"It's usually assumed that cattle are not capable of controlling defecation or urination," says co-author Jan Langbein from FBN.
"[But] cattle, like many other animals or farm animals, are quite clever and they can learn a lot. So why shouldn't they be able to learn how to use a toilet?"
"People's reaction is, 'crazy scientists,' but actually, the building blocks are there," says Lindsay Matthews of the University of Auckland.
"Cows have bigger urinations when they wake up in the morning, which demonstrates they have the ability to withhold urination. There's nothing in their neurophysiology that radically differentiates them from animals, such as horses, monkeys and cats, that show latrine behaviour."