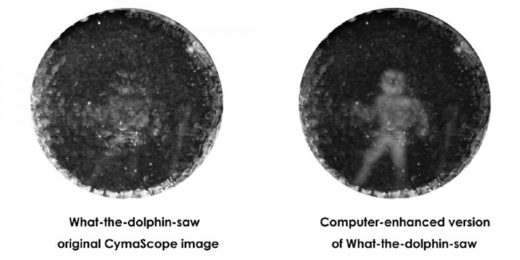 Scientific Breakthrough - Dolphin Sounds Generate Images

Research team discovers that dolphin sounds generate images with echolocation. Amplify your worldview and explore the science and technology behind the startling announcement of "what-the-dolphin-saw" sound images, by Jack Kassewitz and John Stuart Reid, from CymaScope.com.
This week the world was witness to a mind-bending scientific breakthrough: that the clicking sounds that dolphins transmit in using echolocation actually produce pictures that may be the basis of dolphin language. And further, that with specialized technology - that includes the use of a CymaScope and 3D print technology - researchers have seen what dolphins may be seeing for the first time. This could potentially lead to understanding dolphins and communication with dolphins in their own language.
[1]
"We've been working on dolphin communication for more than a decade," stated Jack Kassewitz, research team leader and founder of
SpeakDolphin.com
where images and a press release are available. "When we discovered that dolphins not exposed to the echolocation experiment could identify objects from recorded dolphin sounds with 92% accuracy, we began to look for a way to see what was in those sounds." Kassewitz enlisted John Stuart Reid, inventor of the CymaScope, to search for sonic images in the dolphin recordings. [2]