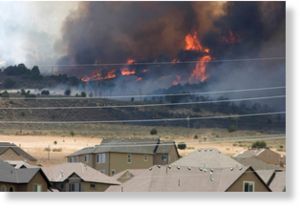 All Robin Coltharp can do is wait and watch.
"We don't even know if our property is still good or not, if it's burned," she said.
Coltharp's husband used a telescope to get a closer look at the property, which Sunday was about a mile away from area burned in the Wood Hollow Fire.
The wildfire continued to rage Sunday, covering more than 39,000 acres in Sanpete County, destroying between 25 and 30 structures and forcing evacuations of more than 200 homes. At last word, only the fire was only 4 percent contained.
Roughly 360 permanent structures and more than 200 trailers or sheds are threatened, the Summit County Sheriff's Office said.
The Coltharps live in Mt. Pleasant and own 5 acres of land on Baldy Mountain. On Sunday, they couldn't see the mountain through the thick smoke.
"We had plans of building a cabin up there," she said, "perhaps living up there."