Brisbane - Flash floods killed a woman and forced evacuations as torrential rain drenched Australia's battered city of Brisbane Thursday just days after it was hit by a violent storm, officials said.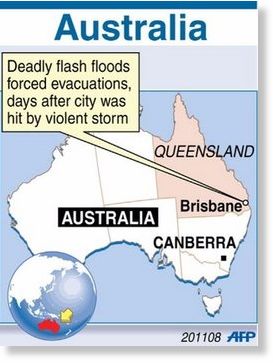 The 85-year-old died when she was trapped in her car as it was swept away by floodwaters east of the Queensland state capital, police said. Her elderly husband was recovering in hospital.
More than 1,000 calls were made to emergency services in Brisbane and surrounding areas on the east coast, which were pounded by up to 25 centimetres (nearly 10 inches) of rain over seven hours overnight.
Thousands of homes were plunged into darkness and families were evacuated from houses threatened by a landslip workers had been trying to stabilise after Sunday's storm, said state Emergency Services Minister Neil Roberts.