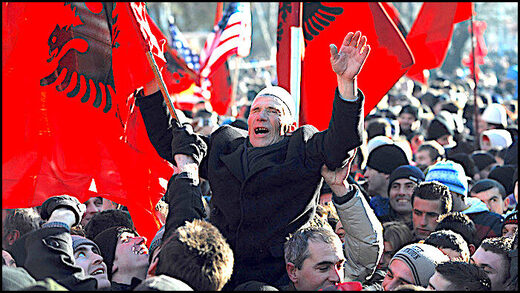 Similar to Ukraine, Serbia's breakaway province is an exercise in the 'rules-based order',
where rules are made up for the convenience of Western powers...
On February 17, 2008, a group of US-backed "democratic leaders" headed by a former Western-sponsored terrorist declared the independence of Serbia's breakaway province of Kosovo and Metohija
(its full legal name under Serbia's constitution).
It seemed oh so simple and straightforward at the zenith of the "unipolar moment," and Kosovo Albanians were "confidently awaiting Western recognition for their state despite the anger its secession provoked in Serbia and Russia's warnings of fresh Balkan unrest," as a
Reuters report
drily noted.
Their confidence was more than justified, as
22 of 27 EU and 26 of 30 NATO member states eventually recognized this unilateral act of secession,
pulling along many other smaller, mostly Western-dependent countries to follow suit. UN Security Council
Resolution
1244, according to which the province is to remain an autonomous province of Serbia pending a mutually agreed final settlement,
was ignored,
just as the UN and international law were ignored in the spring of 1999, when NATO unilaterally engaged in a 78-day bombing campaign against the Federal Republic of Yugoslavia, under the familiar
pretext
of protecting "democracy, human rights and the rule of law."
This resulted in NATO's military occupation of the province that lasts to this day.
The case of "independent Kosovo" is in many ways the perfect embodiment of the post-Cold War West's "rules-based order."
In contrast to international law,
which derives from the UN Charter and numerous universally accepted post-WWII treaties and agreements,
the "rules-based order" is pretty much anything its propagators deem it to be
in accordance with their political interests du jour.
As Russian Foreign Minister Sergey Lavrov
put it
:
"'These 'rules' are 'created from scratch for each particular case. They are written within a narrow circle of Western countries and palmed off as the ultimate truth.'"