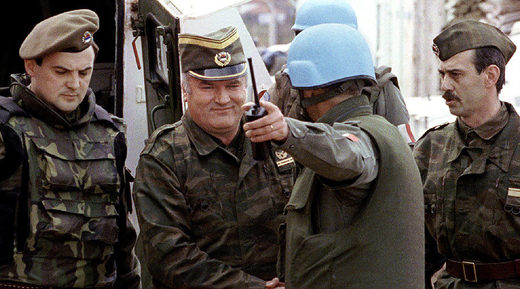 The Muslim-Bosniak member of Bosnia-Herzegovina's tripartite presidency is appealing the decision that cleared Serbia of genocide charges during the 1992-95 civil war. He has launched a case with the Hague-based International Court of Justice.
Member of the presidency Bakir Izetbegovic is seeking to reverse the UN's decision, telling journalists in Sarajevo on Thursday that "the request is being submitted at this very moment," according to Reuters.
"I think that I am on the path of truth and justice," he added.
The appeal is being launched just before the 10-year deadline for such a request expires on February 26.
Bosnia has three major ethnic groups - Bosniaks (Bosnian Muslims), Croats, and Serbs - and is governed by a respective tripartite presidency.
It initially filed the charges against Serbia in 1993, accusing Belgrade of masterminding a program of widespread "ethnic cleansing" during the war that split Yugoslavia and claimed more than 100,000 lives. However, the case was dismissed and only one charge of failing to prevent genocide was leveled in 2007 - that which relates to the Srebrenica incident of 1995, when Serb forces had captured the eastern town and executed 8,000 Muslim men.
Srebrenica was pronounced Europe's worst atrocity since World War II, but has been a topic of much contention for the split former Yugoslavs and the world. To this day, not everyone is in agreement over what led to the incident, or which outside political forces - aside from Belgrade - played a role.
Serbs did not take the news of the appeal too well - both in Belgrade and in Banja Luka, the seat of the Republika Srpska government in Bosnia. They fear that a new crisis could be brewing if the ICJ's decision were to be reversed, and that, at the very least, the decision should have been the result of a consultation between all three parts of the presidency - which also includes the Bosnian Croats.
"I am afraid that we have entered a really serious crisis," the Bosnian Serb leader of the presidency, Mladen Ivanic, later told a press conference.
Serbian Prime Minister Aleksandar Vucic referred to Izetbegovic's decision as "bad" for relations between the two countries.
At the national parliament, Serb lawmakers had earlier indicated they may boycott the institution until the ICJ emerges with its verdict.
However, according to AFP, Izetbegovic says he is ready with "new arguments" in the case, relating particularly to Serb General Ratko Mladic, who is currently on trial at the ICC in the Hague.
The ambassadors from countries involved in the implementation of Bosnia's peace agreement met Thursday in the capital, Sarajevo to discuss how to proceed.
Bosnia has been independent since 1995, after the war ended. Although it is one country, it is administered internationally, and its Serb and Croat government entities enjoy a degree of semi-independence, while the Muslim seat in Sarajevo does not hold much power. Political clashes often occur in the former Yugoslav country.