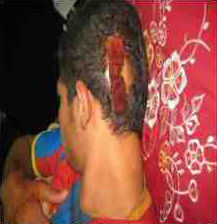 Perhaps the most shocking of all things in Israel's treatment of the Palestinians is the way that children are treated. It is unimaginable that an Jewish Israeli child would be brought to court in shackles or even be placed in a court of law.

Beatings and abuse of children by the Israeli military is common and judges, such as the one below, don't even blink an eye. Thus is legal racism established.

Below this is a paper circulated by Dr Derek Summerfield from Defence for Children International - Palestine Section, on the shooting of children working near the northern border of Gaza. (Tony Greenstein)
The Children's Judge
True, in the military courtroom itself Palestinians are neither shot nor beaten. They are not 'targeted for elimination' nor even sentenced to death. At least not in the courtroom. But the military court is also the place where all illusions die. And hopes. Because that is where Palestinians learn that injury caused them, is no error, nor misunderstanding, but a matter of policy. That is where they learn that law regarding Palestinians is nothing short of another kind of weapon. One of many. Among the tanks and planes and cluster bombs and checkpoints and Separation Wall and white phosphorus and the IOF spokesman.
The military court is the end of ends. The last judgment. The final accusation, a-priori, of Palestinians only because they are Palestinians.
And courtroom number 2, where children are put on trial, is the place beyond that end. The place where all the words end.
Only two family members are allowed to come to the trial. This is usually the only time they can come and see their son, and they do. Time after time. They may bring cigarettes and money for the long day awaiting them. Nothing else. Not even medication, nor tissues, nor food, nor a book or a newspaper. We, visitors who are not Palestinian, are allowed to bring in a notebook and pen. But not tissues. We have no privileges concerning tissues.
Perhaps because tissues are evidence that there is something to cry over, and the State of Israel is not willing to name its own deeds at the end of which lies weeping. And its necessity is the evidence and the visibility of that which Israel is not willing to name, that and the anticipated weeping. Perhaps that is why tissues are not allowed in court.
One man managed to smuggle in a roll of toilet paper despite the order forbidding tissues. Apparently deep in his clothes he dared to hide toilet paper, soft as tissues. Now he moved from woman to woman, handing out bits of toilet paper to every single one of them, all the mothers, so they would have it ready for the tears when they would come. When he handed it to us as well we were ashamed, because we have no spouses or sons in jail. And because the man only had one roll of paper, we felt uneasy that we were getting some at the expense of someone else.
Finally we were lucky to have gotten it. Because all that remains in this accursed place is to weep. The warmth of the wet, salty tears is the only possibly warmth inside this sinister ticking mechanism that no word could encompass or cover.