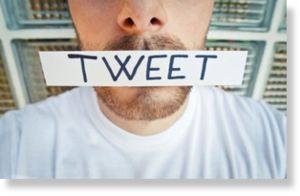 Twitter Inc. must turn over messages posted by an Occupy Wall Street protester, a Manhattan judge ruled on Monday, another move toward giving law-enforcement agencies broad access to comments made on social media.
Monday's order was the second time Manhattan Criminal Court Judge Matthew Sciarrino Jr. has ruled that law-enforcement agencies can subpoena messages posted on Twitter.
In April, Judge Sciarrino ruled Malcolm Harris, a 23-year-old writer charged with disorderly conduct during an Oct. 1 protest on the Brooklyn Bridge, couldn't quash the Manhattan district attorney's office's subpoena to Twitter.
On Monday, the judge rejected Twitter's argument that its users have a reasonable expectation of privacy under the Fourth Amendment, much as people who write emails do.
He acknowledged that legal interpretations of the First Amendment and Fourth Amendment's protection of online commentary are still evolving. But the judge ruled that Mr. Harris had "no reasonable expectation of privacy for tweets," comparing the posting to screaming out of a window.
"The Constitution gives you the right to post, but as numerous people have learned, there are still consequences for your public posts," the judge wrote in an 11-page decision. "What you give to the public belongs to the public. What you keep to yourself belongs only to you."
A Twitter spokeswoman said in a statement that the company was "disappointed" and is reviewing its options.
Mr. Harris's attorney, Martin Stolar, called the judge's decision "not very 21st century."
"It's rooted in old law," he said.
The Occupy Wall Street protests last fall brought to the surface a growing debate in legal circles over how much access law-enforcement agencies should have to statements made on social media websites. Protesters used Twitter to communicate, often publicly acknowledging they were breaking the law, prosecutors said.
"It's sort of the modern equivalent of asking a witness, 'What did he say?' It's just a shift from asking witnesses to asking Twitter. It's the new version of an old problem,'" said Orin Kerr, a George Washington University law professor who specializes in electronic evidence and Internet law.
Mr. Harris was one of 700 people arrested for allegedly marching in the roadway of the Brooklyn Bridge on Oct. 1. Prosecutors have said in a court filing that Mr. Harris's tweets, under the handle @destructuremal, "made clear...that he was well aware of the police instructions that day, and acted with the intent of obstructing traffic on the bridge."
Prosecutors subpoenaed Twitter on Jan. 26, after Mr. Harris's tweets disappeared.
Mr. Harris is set to go to trial on Dec. 12 for disorderly conduct, a violation. He contends police directed him and others onto the bridge.
Mr. Stolar, who is representing several Occupy protesters, said Manhattan prosecutors have subpoenaed tweets in at least four criminal cases related to the demonstrations. In two of those matters, the subpoenas were dropped when defendants accepted deals that would expunge the charges after six months without criminal charges, said Mr. Stolar, who isn't representing the other defendants whose tweets are being sought.
Another protester Jeff Rae, 31, whose tweets were subpoenaed until he accepted a deal for six months probation, said he wants Twitter to file an appeal.
The Manhattan district attorney's office wouldn't discuss how many times it has subpoenaed Twitter.
Under Monday's order, Twitter must turn over Mr. Harris's tweets between Sept. 15, 2011, and Dec. 30, 2011, to the court.
The judge will inspect the messages and turn over "relevant portions" to the district attorney's office. Any tweets after Dec. 30 would have to be obtained using a search warrant.
"We are pleased that the court has ruled for a second time that the tweets at issue must be turned over," Chief Assistant District Attorney Daniel Alonso said. "We look forward to Twitter's complying and to moving forward with the trial."
Drew Hornbein, an Occupy protester who works with its technology operations group, said he appreciates how Twitter has tried to fend off prosecutors' subpoena requests.
"I think they're doing a great job, but they are still a business," he said. "They can't fight if it means they're going to get cut off. I think they want to do the right thing."
Occupy protesters have tried to create communication networks that can't be seen by outsiders.
Jessica Firger contributed to this article.