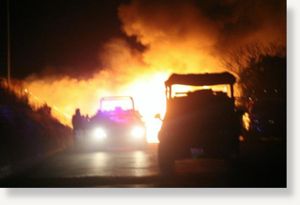 A two-month operation by U.S. authorities has led to the arrests of 678 gang members from 113 different gangs, including 13 linked to Mexican drug cartels, a top law enforcement official said Tuesday.
The U.S. Department of Homeland Security's Immigration and Customs Enforcement (ICE) teamed up with 170 law enforcement agencies around the country for operation "Southern Tempest" targeting violent gangs linked to international drug trafficking organizations.
Around two-thirds of those arrested are foreign nationals and nearly half have ties to drug trafficking groups, mainly in Mexico, ICE director John Morton told reporters.
"The purpose of this effort was to target violent street gangs associated with drug cartels, particularly in Mexico," Morton said.
The announcement of the wave of arrests came two weeks after ICE agent Jaime Zapata was shot dead while travelling in his car with another U.S. federal agent in Mexico.
Last week, the Mexican military arrested a suspect in Zapata's slaying, and days later detained the alleged shooter's boss, a member of the Zetas drug cartel.