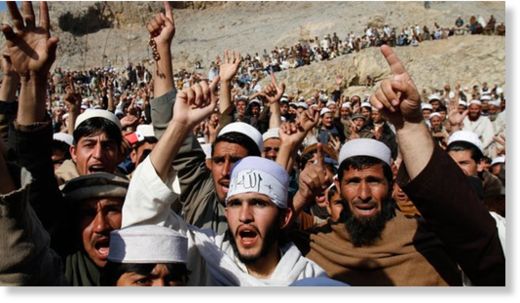 At least 10 people were killed and dozens wounded today as protests over the burning of Korans at a NATO base escalated, with the violence spreading into neighboring Pakistan.
Thousands of angry Afghans took to the street in Khost, Herat and Nangahar chanting "death to America" and burning effigies of President Obama. Protesters In Baghland attempted to storm a U.S. military base, destroying part of a security fence before police began shooting into the air to disperse the crowd.
The fresh wave of violence comes less than a day after Obama apologized for the Koran burning, which he said was a regrettable and unintentional error, and after an assailant dressed in an Afghan National Police uniform killed two U.S. soldiers.
In an attempt to calm rising tensions, the commander of ISAF and U.S. forces in Afghanistan, Gen. John Allen, made a surprise visit - and an impassioned plea - to troops at the military base where the two US servicemen were based.