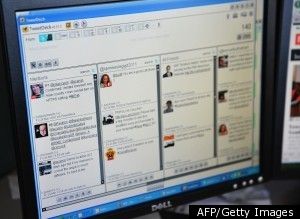 Ever complain on Facebook that you were feeling "sick?" Told your friends to "watch" a certain TV show? Left a comment on a media website about government "pork?" If you did any of those things, or tweeted about your recent vacation in "Mexico" or a shopping trip to "Target," the Department of Homeland Security may have noticed.
In the latest revelation of how the federal government is monitoring social media and online news outlets, the Electronic Privacy Information Center has
posted
online a 2011 Department of Homeland Security
manual
that includes hundreds of key words (such as those above) and search terms used to detect possible terrorism, unfolding natural disasters and public health threats. The center, a privacy watchdog group, filed a Freedom of Information Act request and then sued to obtain the release of the documents.
The 39-page "Analyst's Desktop Binder" used by the department's National Operations Center includes no-brainer words like ""attack," "epidemic" and "Al Qaeda" (with various spellings). But the list also includes words that can be interpreted as either menacing or innocent depending on the context, such as "exercise," "drill," "wave," "initiative," "relief" and "organization."