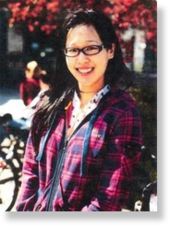 As investigators await the results of a toxicology report to determine the cause of death of Canadian tourist Elisa Lam, a video, released by police, is spooking people in China. The video has been released by the Los Angeles Police Department (LAPD), in an attempt to spread awareness of Lam's fate and maybe prevent similar mishaps.
The video, taken by a surveillance camera in one of the hotel's elevator, has gone viral on Chinese video site Youku.com; it already has more than three million views and 40,000 comments, in a little over 10 days.
The video shows Lam behaving strangely; she enters the elevator, pushes multiple buttons and then peeps out of the elevator, as if looking for an attacker. She then proceeds to step in and out of the elevator a few times.
Mid-way through the video, Lam is seen standing outside and appears to be talking to herself, while making rather elaborate hand gestures. Nobody else is seen in the video with her. She then exits the elevator and disappears from the camera's view.
Check out the video:
Several viewers on
Youku.com
have called the video "spooky". Check out some of the comments [translated from Chinese] from the Web site:
"I knew about Elisa Lam but this is the first time I saw the video. I'm so scared, I'm shaking. I'm numb."
"Every time I go to the company to take the elevator ... I still feel very scared ..."
"I can say from reading the day, I did not dare to sleep."
"Was scared to sleep for several days but still cannot help but look at a variety of analytical posts."
Meanwhile, viewers watching the video on YouTube are raising questions about the line of investigation and progress of the case.
LindaTVNewsChannel wrote:
"It will be several weeks before investigators have the toxicology lab report which would show whether Lam had any drugs in her system. Any marks, injuries or wounds may suggest Lam died elsewhere and was dumped into the tank by her killer."
Jack Dawson wrote:
"In order to get to the roof top, where the tanks are, you need to go through locked, ALARMED doors, that only employees have access to. Second, in order to get the body out, police had to CUT the top of the tank and get her out. Question is, how on earth did they even PUT her in the tank if they needed to cut to take her out? No offense, but your theory is flawed!"
Unicorntreetop adds to the conspiracy theories surrounding the crime:
"there would definitely be more than one cctv recording. This one is probably more acceptable to release and so people can see what she was wearing that night. What good would it do to release the tape with the killer still at large? Also ever thought that this tape has had its date and time blacked out because it actually runs longer. They have cut and edited it so they don't give their leads away? Think about it people..."
Elisa Lam's body is believed to have been in the water tank of The Cecil Hotel for two weeks before it was discovered by a maintenance worker on 19 February. The worker had gone to the rooftop water tank to attend to complaints, from hotel guests, of low water pressure.