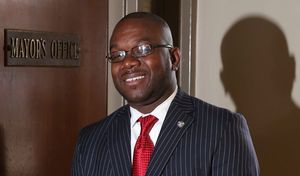 Jackson -- A 22-year-old man was charged with murder Thursday in the death of a mayoral candidate, whose body was found near a river levee in the Mississippi Delta this week.
The Coahoma County Sheriff's Department said in a news release that Lawrence Reed of Shelby was charged in the death of Marco McMillian, 34, a candidate for mayor of Clarksdale.
Campaign spokesman Jarod Keith says McMillian's bid was noteworthy because he may have been the first openly gay man to be a viable candidate for public office in Mississippi.
An investigation began Tuesday when McMillian's SUV slammed head on into another car on U.S. Highway 49 near the Coahoma and Tallahatchie county lines.
Reed was driving the car, but McMillian was not in it, according to sheriff's department spokesman Will Rooker.
McMillian's body was found the next day near the Mississippi River levee between Sherard and Rena Lara, Coahoma County Coroner Scotty Meredith has said.
Warren Strain, a spokesman with the Mississippi Department of Public Safety, said the autopsy was completed but toxicology and other test results are pending, and no cause of death will be released until the report is completed.
The sheriff's department has not released a possible motive for the crime.
Reed was taken to the Regional Medical Center in Memphis after the car wreck, and was listed in good condition on Thursday, a hospital official said.
Little is known about Reed or how he was acquainted with McMillian.
A recent address listed for Reed was at a Clarksdale apartment complex, but the manager said the unit was rented by another man who has since moved out. The manager said he did not know Reed.
Sissiretta Melton, 33, said she had known McMillian since they were in seventh grade in Clarksdale and described his death as "dramatic" for those who loved him and his community.
"It's just terrifying to everybody that knew him personally because you ask, 'Why?'" Melton said. "Why would it happen to someone like him?"
Melton said people knew early on that McMillian had a bright future and that he could have left Mississippi behind for good.
"He knew this town needed him," she said. "Kids here have nothing. We don't even have a decent movie theater. He wanted to bring those things here."
Keith has said McMillian had big plans for Clarksdale, a town of about 17,800 people best known as a hub of Blues music.
Although Keith said McMillian's sexual orientation was noteworthy in the conservative state, Melton took issue with the way McMillian has been characterized at times since his death, saying he was not one to flaunt his sexuality, but was comfortable with who he was.
"He was just a standup guy," she said.
Clarksdale is known as the home of the crossroads, where Robert Johnson is said to have sold his soul to the devil for skills with a guitar. Academy Award-winning actor and Mississippi native Morgan Freeman is part owner of the Ground Zero Blues Club in town.
But the town also struggles with the grinding poverty that is typical of the Mississippi Delta.
Those who knew McMillian said he had connections across the country, and hoped to put those to use for Clarksdale.
McMillian had forged ties while serving for four years as international executive director of the historically black Phi Beta Sigma Fraternity Inc. Photos on McMillian's website and Facebook page show him with a younger Barack Obama, former President Bill Clinton and with U.S. Rep. John Lewis, a Georgia Democrat.
McMillian was CEO of MWM & Associates, described on its website as a consulting firm for nonprofit organizations. In addition to his role at the fraternity from 2007 to 2011, McMillian had previously worked at Alabama A&M University and at Jackson State University.