A police search team dug up parts of the back garden of a house where a male nurse was arrested on suspicion of plotting to rape, kill and eat women, it has emerged.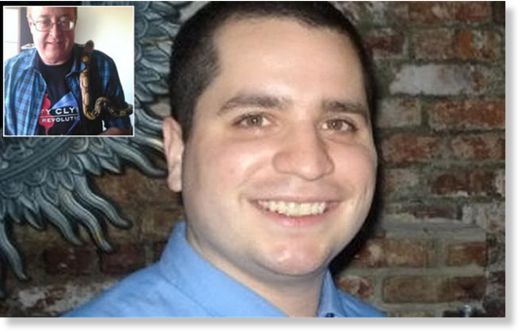 Officers spent 15 hours searching the home of Dale Bolinger, 57, who was held last week by police investigating the British "mentor" of a New York policeman who used internet chat rooms to discuss torturing and cannibalising women.
The British contact of Gilberto Valle, who is currently on trial in the US, told him he had eaten two women in the past and offered to fly to America to help him butcher women.
Mr Bolinger, who has been suspended from his job at a hospital in Kent, and a 30-year-old man were arrested in Canterbury last week after Kent Police received information from police in the US.
Today neighbours living near Mr Bolinger's rented end-terrace home described how police used sniffer dogs and shovels in their search of the property.
One said: "The police came here last week at about seven o'clock in the morning. They had police dogs and there were forensic officers and plain clothed detectives.
"They even got shovels out of their van and went into the back garden with them.
"We wondered what on earth was happening. They were there until about ten o'clock at night. We don't know the guy that lives there. He's very quiet.
"We see him go to work on his bicycle early in the morning and sometimes on a weekend he will go out for a ride but that's the only time we ever see him."
Mr Bolinger's next-door neighbour said: "There were two police dogs and they were looking through the two garden sheds.There was another police person with a shovel. I saw him digging all the soft soil in the flower beds."
Resident Chris Mosley, 42, said: "There were two police vans, two cars with dogs, two normal cars, a four by four and an undercover car. It was a huge presence and the forensic teams were bringing out bags full of stuff, I have no idea what was in them."
Mr Bolinger has a son, Rick, 30, who works in performing arts and divides his time between his father's house and the home of his girlfriend who lives nearby.
Dale Bolinger is separated from his wife Rosemary, a prominent campaigner for the disabled and former trustee of the cerebral palsy charity Scope, who lives in Eastbourne with their daughter Laura-Jane, 26.
Kent Police said a 57-year-old man and a 30-year-old man were arrested in the Canterbury area on Feb 21 on suspicion of conspiracy offences, grooming and possessing images of child abuse. They are currently on police bail.
Valle, 28, used an extreme sexual fetish website to discuss his fantasies of kidnapping, raping, torturing and eating women. He was arrested last year after his wife found chat room messages on his computer and called the police, and is currently being tried on suspicion of conspiracy to kidnap, having discussed possible "victims" including his wife and other female acquaintances.
Last summer he was in regular contact with someone in Britain using the aliases Moody Blues and MeatMarketMan, who gave him advice on how to cook and eat women.
In one exchange, Moody Blues said he had eaten a black woman and a white one in the past, saying he regarded feet as a particular delicacy, and suggested cutting off victims' feet while they were still alive and barbecueing them in front of the victim.
Moody Blues also demanded reassurances that Valle would go through with his plans, as "I've been let down before, that's why I tend to work alone".
Valle denies conspiracy to kidnap, saying he was discussing fantasies which he had no intention of carrying out.
Mr Bolinger left home on his bike this morning, refusing to comment on his arrest.