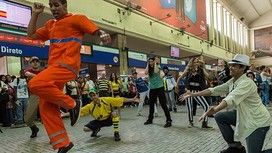 Daltson Takeuti is not how you would picture one of the leaders of
Brazil
's flashmob movement that is sweeping across shopping centres, sparking violent clashes with police. The soft-spoken 55-year-old teaches piano for a living and has never organised a protest in his life.
But around 1,000 people are expected to turn up at São Paulo's upmarket JK shopping centre on Saturday for a gathering - known as a '
rolezinho
' - which he has organised over Facebook.
Mr Takeuti was motivated to act by a crackdown on other flashmobs, which began last month as parties but have become more political. "I couldn't bear to see the criminalisation of poor, black kids," he says.
Similar protest-cum-rampages are planned in at least eight other states across Brazil this weekend, with more than 8,000 expected at one shopping centre in Rio de Janeiro. Popular among poor, largely black, Brazilians, the flashmobs have begun to snowball into a nationwide movement against racism and inequality, threatening the government with further violent mass protests just as the country prepares to host the football World Cup, academics say.
In June the biggest
protests
in 20 years spread across Brazil following complaints over a bus fare increase, bringing businesses in Latin America's biggest economy to a standstill and prompting a
plunge
, albeit temporary, in President Dilma Rousseff's popularity.
Ms Rousseff called an emergency meeting with ministers this week to discuss the
rolezinho
"phenomenon", concerned it would spiral out of control, local media reported. As well as steering Brazil through a trouble-free World Cup, Ms Rousseff will have to battle for her re-election during presidential elections in October.
"
The government has good reason to be worried
," says Rafael Alcadipani, at the Getúlio Vargas Foundation (FGV), an academic institution. "The
rolezinhos
can be seen as a remodelling of last year's protests but this time by the people from the city's periphery," he says, pointing to a similarity with the London riots of 2011.
São Paulo's first major
rolezinho
took place at the beginning of last month, when about 6,000 teenagers occupied Shopping Itaquera in the city's poor eastern suburbs. The event was organised by fans of Funk Ostentação ("Ostentatious Funk"), a popular style of music in the slums that is all about showing off expensive clothes and cars - a reflection of the country's decade-long consumer boom.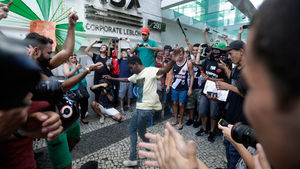 Similar gatherings followed across the city but muggings and robberies prompted a tough response from the police. Last Saturday, military police used rubber bullets and tear gas to break up the crowds and were caught on camera beating teenagers with truncheons.
Messages of outrage spread quickly over social media in Brazil, which has the second biggest Facebook community in the world, turning the mass parties into a nationwide political movement.
Growth is slowing and Brazil has double-digit interest rates. In the middle of a tightening cycle, should Alexandre Tombini, central bank president, raise rates 25 basis points, like many expect, or increase them 50 basis points to keep on top of inflation?
At least four shopping centres across the city secured court orders to ban suspicious teenagers from entering, leading to accusations this week of racial segregation and even a "Brazilian apartheid".
"Would the same decision have been taken if these were upper middle class teenagers? Certainly not," wrote Wadih Damous, head of the human rights commission of Brazil's lawyer association OAB, in a statement posted on Facebook on Wednesday.
This sense of outrage has prompted more unlikely people, such as Mr Takeuti, to get involved. "I condemn the violence associated with the
rolezinhos
but it can also serve a purpose: if the protests last year hadn't turned violent the authorities wouldn't have taken any notice," he says.
In spite of Brazil's image as a harmonious melting pot of races, racial tensions run deep. The country still suffers from one of the most acute income divides. "Although Brazil has progressed in reducing poverty, we note that there's still a great contrast between the situation of black Brazilians and the country's rapid economic growth," the UN concluded in a report last month on racism.
FT Video from June 2013: Large uprisings spread across the country after what started out as a student protest in São Paulo over rising bus fares.
On one hand, the
rolezinhos
can be seen as a result of the progress Brazil has made over the past decade lifting almost 40m people into the lower middle classes, says Fred Lúcio, an anthropologist at ESPM, a higher education institute. Income growth has inspired a sense of social ascension, leading to demands for greater equality, as well as allowing people to buy their first mobile phones, giving them access to social media.
However, others such as FGV's Mr Alcadipani see the movement as the symptom of a disenchanted youth that is facing a slowing economy and a shrinking job market. While Brazil's unemployment rate remains at a record low of about 5 per cent, research by Ipea, a government agency, has shown many young people in poorer regions are dropping out of the workforce and are not going into higher education either.
Protests during the World Cup in June and July now seem inevitable, says Mr Takeuti. But their severity will probably depend on how well the national team does. "At the end of the day, Brazilians still love football and when the match starts it's easy to forget about everything else."