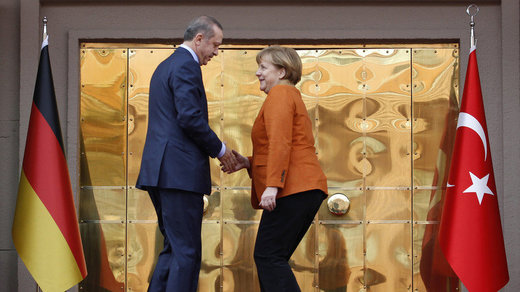 The majority of Germans want to see Chancellor Merkel take a strong stand against Turkish President Erdogan.
The German public is getting fed up with Chancellor Merkel's weakness when it comes to dealing with Turkish President Erdogan. To say that Erdogan "owns" Merkel is being polite. When Erdogan orders Merkel to jump, the German leader asks how high.
Merkel has shown that she is ready to do anything to stem the flow of refugees (her NATO country helped bomb), from entering the EU. This includes 6 billion euro "aid" packages (cough cough blackmail payments) to Turkey's leader.
Talk about a great racket. Turkey continues to destabilise Syria, then funnels in refugees (with a sprinkle of ISIS terrorists mixed-in) directly towards Greece and Europe...and then orders Merkel to pay up so as to stop the flow. This is textbook mafia...like a geo-political Goodfellas.
And of course Merkel, in her infinite weaknesses, caves-in. Unfortunately for the Chancellor, her German citizens don't like Merkel's handling of Turkey one bit.