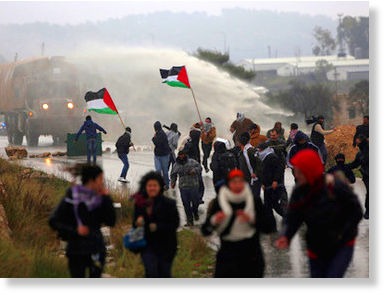 Israel is using lethal force on unarmed Palestinian protesters in the West Bank, according to the latest report by the Israeli human rights group B'Tselem. It says 56 people were killed in the clashes, with an average age of 18.
In the 31-page report, B'Tselem accused Israeli security forces of having "extensively and systematically violated" rules that ban deadly response to a non-lethal assault. B'Tselem has been working on the report, 'Crowd Control: Israel's use of Crowd Control Weapons in the West Bank' for the past year.
Only in the past fortnight, the Israeli military shot dead two Palestinians in the clashes.
Since 2005, six people were killed by rubber-coated metal bullets and two by teargas canisters, both supposedly non-lethal weapons which were fired directly at protesters, according to B'Tselem.
Live ammunition was utilized in other 48 cases of death. The average age of those killed was reportedly 18-and-a-half.
The typical riot dispersal tools of security forces include teargas, rubber-coated bullets, stun grenades, live ammunition, skunk and water cannons, pepper spray, and sponge rounds - non-lethal weapons which are not dangerous for long-term health if used correctly.