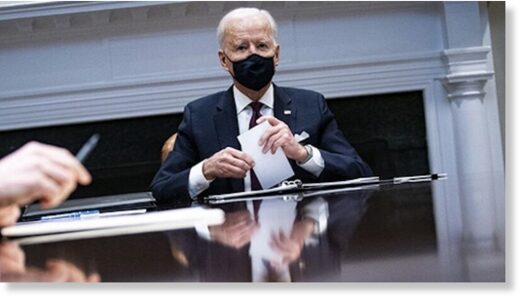 President Biden
will sign an executive order on Monday establishing the Gender Policy Council within the White House to focus on uplifting the rights of women and address gender-based discrimination and violence.
He will also sign an executive order directing the Department of Education to review the Title IX regulation issued by the Trump administration to determine whether it is consistent with the policy of the Biden administration that students be "guaranteed education free from sexual violence," administration officials said.
The orders come on International Women's Day and he will sign them alongside Vice President Harris, the nation's first female vice president.
Biden and Harris had announced plans before their inauguration in January to establish the Gender Policy Council.
"The council will have an explicit role in both domestic and foreign policy development," an administration official said. "We know that the full participation of all people, including women and girls across all aspects of our society, is essential to the economic wellbeing, health and security of our country and of the world."

Comment: These policies are not about "the economic wellbeing, health and security of our country and of the world" - but rather about using wokeness and ideological thinking to mask the totalitarian agendas and policies US citizens are now having rammed down their collective throats.


The council will be headed by Jennifer Klein and Julissa Reynoso, who is chief of staff to first lady
Jill Biden
, and will include four other staffers, including a special assistant to the president on gender-based violence and two special assistants on gender policy.
The council will address a range of issues, including combatting gender bias and discrimination, increasing economic security and opportunity, addressing needs of caregivers in the United States, improving access to healthcare, and combating gender-based violence.
It is expected to put a particular focus on addressing the coronavirus pandemic
and its disproportionate impact on women by engaging with the White House coronavirus task force.
The executive order Biden will sign requires the council to submit a government-wide strategy for advancing gender equity and equality in the United States and globally
and to report on its annual progress, according to administration officials.

Comment: And globally too? So these policies are meant to take radical liberal thinking to a whole other level of world-wide implementation - as if the US has that level of influence and power. The hubris and arrogance of this administration is astonishing.


The council is likely to be similar to the White House Council on Women and Girls convened under former President Obama, but an administration said the name change was "intentional to reflect that gender discrimination can happen to people of all genders."
The second executive order Biden will sign will direct a sweeping review of all existing Department of Education regulations, orders, policies and guidance to ensure they comport with the Biden administration's policy.
The Trump administration Title IX rule finalized last year bolstered the rights of those accused of sexual misconduct on college campuses. The rule was widely criticized by Democrats and those advocating for victims of sexual assault. Biden promised to quickly end the previous administration's Title IX rule on the campaign trail.
"The [Biden administration] policy that is very clear is that all students should be guaranteed an educational environment that is free from discrimination, including discrimination in the form of sexual harassment and including discrimination on the basis of sexual orientation or gender identity," an administration official said.
Biden is expected to speak at an event Monday afternoon alongside Harris and other senior officials.