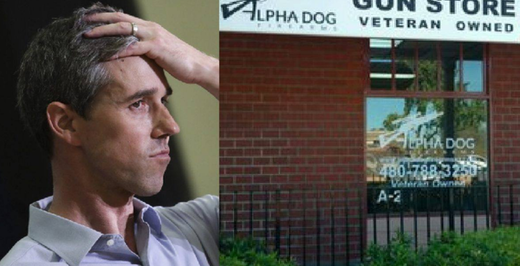 A gun store in Arizona is cashing in on gun-grabber Beto O'Rourke, by offering "Beto Specials" on select AR-15's.
During the Democrat primary debate in Houston, struggling 2020 candidate Beto O'Rourke vowed to seize every Americans' AR-15 guns.
Beto O'Rourke vowed to confiscate legally owned rifles during the third Democratic primary debate on Thursday evening.

the recent mass shootings in El Paso, Texas and Dayton, Ohio, the former Democratic congressman said the federal government must seize certain semi-automatic rifles to prevent further tragedy.

"The high-impact, high velocity round, when it hits your body shreds everything insider your body because it was designed to do that, so that you would bleed to death on the battlefield," O'Rourke said to raucous applause.

"When we see that being used against children, and in Odessa, I met the mother of a 15-year-old girl who was shot by an AR-15 and that mother watched her bleed to death over the course of an hour because so many other people were shot by that AR-15 in Odessa, there weren't enough ambulances to get to them in time," he added. "Hell, yes, we're going to take your AR-15, your AK-47. We're not going to allow it to be used against a fellow American anymore." [National Review]
The store is called Alpha Dog Firearms, and you can visit their website
here
. These are the "Beto Specials" they're offering on AR-15's.
The demand for the "Beto specials" are so popular, that they're selling out, according to a post on the companies Facebook page.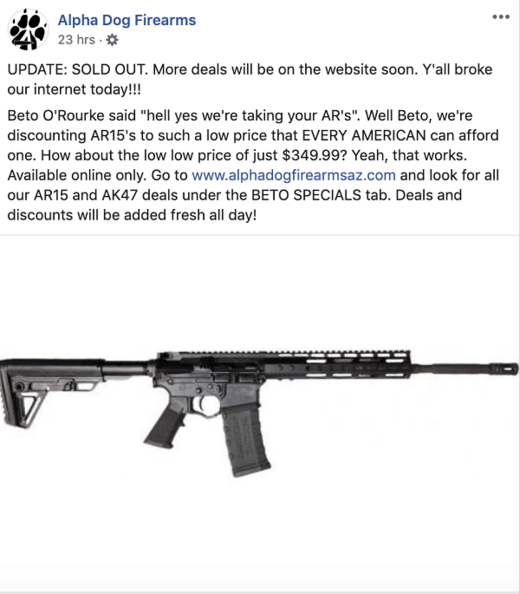 The American Tactical Import Omni Hybrid Maxx Semi-automatic rifle for $349.99 was wildly popular and sold out quickly.
Alpha Dog's post about the "Beto Special" has gone viral on
Facebook
.
Thanks to Beto, more Americans are purchasing AR-15's. That's capitalism and patriotism at it's very best!