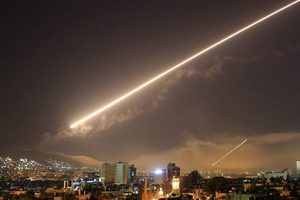 Syrian air defense systems protecting Damascus - the oldest continuously-inhabited city on Earth - from Western airstrikes, 14 April 2018
In the Truth there is no news, and in the News there is no truth
- Popular Russian saying under Soviet Communism
Recent Comments
Handshakes are all-important in France. Two guys show up for work next to each other, they shake hands. Lunch time, they shake hands again before...
---
" But as he reached his peak in 2015, Mancini suddenly began to suffer delusions. He imagined the government was spying on him, that members of...
---
Hey MI5, if you have some decent folks left.. Last chance! Throw out the psychopaths or go down with them!
---
Can there be a circle jerk with only two ? ?
---
WTF these kind of protests achieve anyway ? Oh wow, thank you for showing me the message, never thought about it this way. Gonna change my...