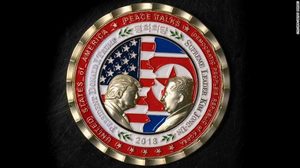 Coin flipping
A nation that continues year after year to spend more money on military defense than on programs of social uplift is approaching spiritual doom.
- Martin Luther King, Jr.
Recent Comments
Thomas The Tank Engine has to go... down with that sort of thing.
---
> high US import reliance on foreign countries There is two solutions. Just two: -- The Libyan model where you give the country in the hands of...
---
How about making a 'clean' veggie burger? A homemade beefburger is unrecognisable to anyone who appreciates only sludge patties from McDonald's....
---
Bolton, and Pence troll the DPRK in hopes of triggering the response they needed to squash the unintended, and unexpected detente before it ruined...
---
I seriously hope that the next life, if there is one, is not as stupid as this one has gotten to be...