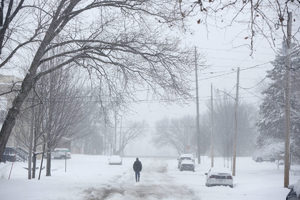 Those who had packed away their winter coats, shovels, snowblowers and snowmobiles were suddenly unpacking Saturday.
A winter storm dumped more than a foot of snow in parts of Northeast Iowa, including the Cedar Valley, sending drivers, cities and event organizers alike back into winter-weather mode just four days after the official start of spring.
Temperatures in the 50s and emerging perennials earlier this week yielded to thundersnow and blizzard-like conditions Friday night well into Saturday afternoon, bringing the snowplows back and canceling or postponing events from Easter egg hunts to a gun violence protest march.
"Safety is our number one concern, whether you're talking about the right for students to feel safe in their schools or keeping folks off the road when conditions are this bad," said Christopher Schwartz, community organizer for Americans for Democratic Action Iowa, which postponed its March for Our Lives rally in Cedar Falls.
The storm blasted its way through north and Northeast Iowa, with 16 inches of snow falling by 3 p.m. Saturday in parts of Cerro Gordo, Floyd and Mitchell counties, according to the National Weather Service.
A Winter Storm Warning was extended through 7 p.m. Sunday. Most area cities declared snow emergencies.
Waterloo received about 10.5 inches of snow by 3 p.m. Saturday, according to the NWS. Around 3.6 inches of that fell Friday evening, meaning 6.9 inches of snow had fallen on Saturday. If those numbers hold, that bests the previous March 24 record of 6 inches of snow set in 1903.
Bremer, Butler, Chickasaw and parts of Fayette and Franklin counties also bore the brunt of the storm, with many cities seeing a foot of snow or more.
Snow finally began to abate in the Cedar Valley by mid-afternoon Saturday, though the heavy, wet snow was expected to continue to cause problems in the form of roof collapses on older or flat roofs, as well as tree branches snapping and falling onto power lines, according to the NWS.
Wintry precipitation was expected to linger in parts of Black Hawk, Grundy and Tama counties through Saturday evening, according to the NWS.
The Iowa Department of Transportation maps showed plows out all over Northeast Iowa. Most major highways in the area were marked as either partially or completely covered by Saturday afternoon.
Roads were improving around the Waterloo metro area Saturday afternoon, though city officials still declared a snow emergency until 9 p.m. Sunday in Waterloo. Residents were asked to move their cars off of public streets to allow for better snow removal. The 48-hour parking ordinance would be enforced, the City of Waterloo said.
Although Sunday's weather was expected to be quiet, thunderstorms are predicted for Monday afternoon and evening for Black Hawk, Bremer, Butler, Franklin, Grundy, Hardin and Tama counties, according to the NWS. Significant stream and river rises were possible into next week.