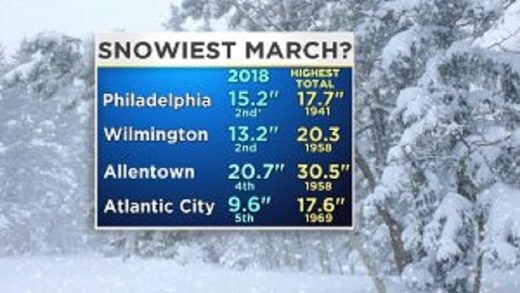 It has been a messy March across the entire Northeast as four nor'easters have pummeled the region from D.C. up to Boston. Philadelphia only escaped one of the systems relatively unscathed while we got hammered the other three times.
Thanks to the three major storms, especially nor'easters two and four, our snow totals for the month of March are ending up extremely high. How high? We are near record-breaking in more than a few areas across the region. Here is a breakdown of how March 2018 stacks up against other snowy Marches on record.
So far in Philly for March of 2018, we have had a total of 15.2 inches of snow and it has taken 10 days for us to reach that total, with five of those days recording a measurable amount of snow (Amount > .01″). The 15.2 inches of snow that we have seen currently has us tied for the seconnd snowiest March on record for the city of Philadelphia, tying the March of 1914.
Other cities across the region that are in the top five of snowiest Marches on record are Atlantic City, Wilmington and Allentown. In Atlantic City this March we have seen 9.6 inches of snow. In Wilmington we sit at a total of 13.2 inches and in Allentown we currently have a total of 20.7 inches. While all of these totals are extremely high, only Wilmington at 13.2 inches cracks the top two like Philly. Atlantic City and Allentown sit at fifth and fourth all time, respectfully.
As stated, all of these totals hover at either second or lower on the list of March snows all time. How much more would each city have to receive to break the all-time snowiest March on record? Well, in some cases, quite a bit more. In Philly, if we wanted to jump into the top stop this year for snowiest March on record we would have to receive another 2.6 inches to push us up over the No. 1 total of 17.7 inches set in 1941.
For Wilmington, also in second place, we would need to get another 7.2 inches to jump the No. 1 total of 20.3 inches set in 1958. Allentown in 2018 currently sits in fourth place all time and would need another 9.9 inches to break into the top spot above 1958 when we received 30.5 inches. Finally, in Atlantic City, where we are currently sitting in fifth place all time for March snowfall, we would need another 8.1 inches to surpass the all time March snow of 17.6 inches set in 1969.
There is still just over a week left in the month of March so there is a chance that we could creep closer to those all time snowiest records, but the good news right now is that in the next seven days there is no true snowfall chances in the forecast, so it looks like we will be keeping out fingers crossed that we remain snow free for the rest of the month.