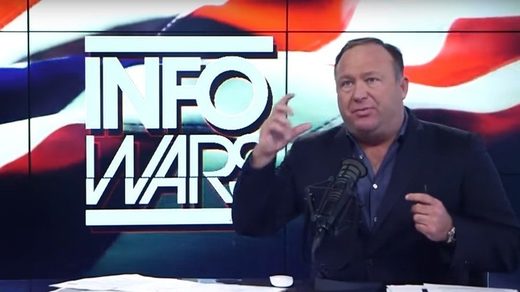 Advertisers are quickly abandoning Alex Jones' InfoWars channels on YouTube after they discovered their ads were displayed on the controversial channels, courtesy of CNN.
CNN
claims
that big companies like Nike, Acer, Mozilla, Alibaba, Expedia, ClassPass, 20th Century Fox, and others have discovered they had ads playing on the Alex Jones Channel. Now, a number of brands are
"blacklisting"
InfoWars from future ad spending, the report said.
It is often the case that when companies purchase ads from various agencies, they are unaware of exactly where those ads will be displayed. It is possible, however, for them to use filters to prevent them from showing up on certain websites and channels. YouTube allows brands to opt into a
"sensitive subject exclusion"
to ensure their ads don't run alongside offensive content, which InfoWars often is.
As it stands, the main Alex Jones Channel does not appear to be running any ads before its videos at all. InfoWars has accused CNN of leading a campaign to get the channel banned for good.
The website's editor-at-large, Paul Joseph Watson, tweeted in response to the CNN report, claiming that InfoWars is
"90% demonetized"
and that CNN's
"lobbying"
of YouTube won't make a difference.
It's far from the first time, however, that InfoWars and Alex Jones have come under scrutiny for publishing sensational content and conspiracy theories.
Jones has already received two
"strikes"
from YouTube - most recently after he claimed that Florida school shooting survivor David Hogg was a
"crisis actor"
and that the shooting was a deep state
"false flag"
operation. If Jones receives a third strike within three months, the channel could find itself permanently banned.
YouTube recently admitted that it had
"mistakenly removed"
several videos and channels from right-wing producers,
attributing the mistake
to
"newer members"
of its content moderation team.
InfoWars is not the first right-wing outlet to be targeted by advertiser boycotts. Conservative website Breitbart
lost 90 percent
of its advertisers in two months last year, while Fox News' Sean Hannity was the subject of
calls for a boycott
from liberal press watchdog website Media Matters last year.