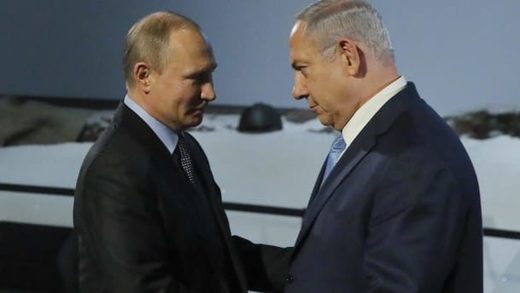 Russian President Vladimir Putin put an end to the confrontation
between Israel and Iran in Syria
and both sides accepted his decision. That's the apparent conclusion to be reached from the chain of events this past weekend.
On Saturday afternoon, after the second wave of bombardments by the Israel Air Force
against Syrian targets and Iranian installations
in Syria, senior Israeli officials were still taking a militant line and
it seemed as if Jerusalem was considering further military action
. Discussion of that ended not long after a phone call between Putin and Prime Minister Benjamin Netanyahu.
The official announcement by the Russian Foreign Ministry objected to the violation of Syrian sovereignty by Israel and totally ignored the event that provoked the eruption - the infiltration of an Iranian drone into Israeli airspace. In the conversation with Netanyahu a few hours later, Putin asked him to avoid moves that could lead to "a new round of dangerous consequences for the region."

Comment: Israelis like Harel are like 12-year-old girls. "The Russian Foreign Ministry, like, totally ignored the fact that Iran flew a drone over our borders!" Yeah, and you destroyed it. Get over it. How many times have you guys illegally flown military jets into Syrian airspace, bombed them and rained missiles on their heads? How's that for respect for sovereignty? Israel has gotten off lightly for all its war-mongering and blatant criminality.


The Russians are also concerned about the proximity of the Israeli bombings to sites where their soldiers and advisers are serving, including base T-4 near Palmyra, where the Iranian control post from which the anti-aircraft missile was fired was bombed.

Comment: Alleged control post. That's another thing the Israelis are notorious for: lack of any actual evidence for their claims.


The quiet after the Netanyahu-Putin call shows once again
who's the real boss in the Middle East
. While the United States remains the region's present absentee - searches are continuing for a coherent American foreign policy - Russia is dictating the way things are going. Moscow has invested too much effort and resources in saving Syrian President Bashar Assad's regime in recent years to allow Israel to foil its strategic project. One can assume messages of this nature were conveyed during the phone call with Netanyahu.
This doesn't mean that Israel doesn't have its own bargaining chips, just from
its ability to send the Syrian arena into another dramatic spin
, but it's doubtful that Netanyahu is eager to confront the Russians. His confrontation with the Iranians is enough.

Comment: That's right. The Israelis are tight with al-Qaeda, after all. A match made in heaven.


A rare vulnerability exposed
during an otherwise successful day for the IAF that allowed the hit on the F-16 provided the Iranians and Syrians with their
great propaganda achievement
. The crew of the plane that was hit was left relatively exposed at high altitude in a manner that allowed the surprise hit by the missile. From Iran's perspective, it was an impressive success in the first operation that the Revolutionary Guards conducted in this region by themselves, without relying on emissaries like Hezbollah and local militias. This success was immediately translated into an attempt to establish a new balance of power through declarations that it would no longer allow Israel to conduct air strikes in Syria as it pleases.

Comment: Total BS, but you can't blame them: the Syrians utterly humiliated the mighty, invincible Israeli military.


The area surrounding Assad's camp suffered serious damage from the weekend bombardments, with
almost half the Syrian army's air defense batteries destroyed
. But it seems that from the Iranian and Syrian perspective, the symbolic importance of taking down an Israeli plane makes up for this.

Comment: Again, evidence please. Not just hollow Israeli propaganda talking points.


Over the weekend another two precedents were set:
Iran launched a drone into Israeli territory
, and Israel hit a manned Iranian target in Syrian territory. Israel thus crossed a certain psychological barrier, after months of public (and apparently excessive) threats to stop Iranian entrenchment in Syria.
But now a new test looms: If Israel won't allow shipments of advanced weaponry to be brought to Hezbollah in Lebanon via Syria, what will it do the next time such a convoy sets out, after the enemy has demonstrated its attack capabilities and has threatened that the next Israeli attack will lead to a broad escalation? Even if we assume that next time, IAF planes will set out on their mission with more extensive protection,
it's taking a calculated risk
.
The air strikes in the north were part of what the Israel Defense Forces refer to as the "war between the wars," aimed primarily at undermining the efforts of organizations like Hamas and Hezbollah to empower themselves. When he presented the IDF's annual intelligence assessment last month, Chief of Staff Gadi Eisenkot raised the possibility that the
many IDF successes during these interim campaigns could push the enemy to try to respond in a way that could bring the region to the brink of war
. That's essentially what happened over the weekend.

Comment: Isn't that what the Israelis want?


Although things seem to be calming down, in retrospect it seems that we came a hair's breadth from a slide into war. The security establishment's assessment is that although this round of fighting has ended,
another clash with Iran is only a matter of time
.
On the right, one is starting to hear weird ideas about establishing a new regional order; let's just finish teaching the Syrians a lesson and we'll be able to go at the Iranians directly, even on their territory.
But these are dangerous ideas that Israel would best avoid
. In this tough neighborhood, Israel must display strength and determination, but dare not get drawn into illusions about unlimited military strength. It seems that the leadership in Jerusalem understands this.

Comment: Because Israel is weak, and they know it.