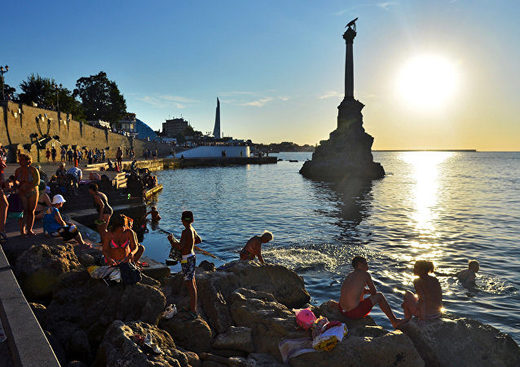 Crimea's budget revenue figures have nearly doubled from those of the Ukraine era.
The head of Russia's Crimean Republic, Sergey Aksyonov, has revealed that the Republic's revenue figures have nearly doubled those which were being earned by the peninsula
during the best days under Ukraine's rule.
While Crimea was under Kiev's control, its budget never exceeded 22 billion roubles. Compare that with the 40.6 billion rubles which the Republic managed to earn in tax revenue and from other sources in 2016. It's important to note that this figure doesn't even include federal aid money from Moscow.
According to a RIA Novosti
report
, Aksyonov is quoted as saying the following (translated by The Duran):
"I want to underline, that even in the best of times with Ukraine, Crimea's budget stood at roughly 22 billion rubles. So in just 3 years [since reunification with Russia], despite all the blockades and sanctions [from Ukraine and the West], and despite the difficult transition period, Crimea has achieved revenue figures that nearly double those under Ukraine, and that's without the inclusion of federal aid."
"It's important to remind our readers that the Crimean Supreme Council (the peninsula's main governing body) voted unanimously to secede from Ukraine in 2014, days after a violent and bloody western-backed coup deposed of Ukraine's legitimately elected pro-Russian President Victor Yanukovich, installing an ultra-nationalist and neo-Nazi backed regime in his place. A regime, which sought to silence the country's pro-Russian population.
Shortly after secession, in a
region-wide referendum, over 95% of the peninsula's 2 million inhabitants voted in favor of reunification with Russia.
The government of Russia then recognized the results of the referendum, and in respect of the people's rights to self-determination, acted to reintegrate Crimea into the Russian Federation.
Crimea was first acquired by Russian Empire in 1783 and has remained under Russian rule until the collapse of the Soviet Union in 1991, when the newly formed country of Ukraine claimed it for itself, referencing a 1954 bureaucratic error in which the peninsula was formally handed over to Ukraine's jurisdiction under the USSR.