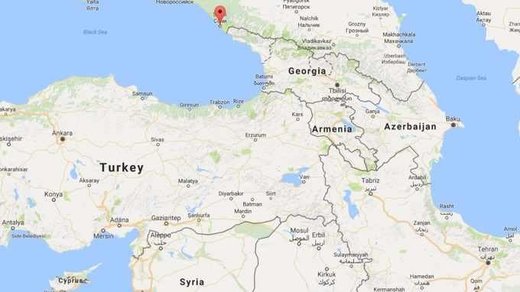 Russian air traffic controllers have lost contact with a Tu-154 airliner with 91 people on board, which disappeared from radar shortly after take-off in Sochi, the Russian Defense Ministry confirmed in a statement.
Ninety-one people were on board the aircraft, including 83 passengers and eight crew members, the Russian Defense Ministry said.
The plane took off from Sochi Adler Airport on a "planned flight" and failed to check in with the control tower at 5:40am Moscow time, the ministry said, adding that all rescue services in the region have been deployed to search for the missing plane.
"According to preliminary data,
a Russian Defense Ministry Tu-154 disappeared from radar screens after departing from Sochi
," a source in the country's Emergencies Ministry told RIA Novosti earlier.
Nine journalists along with musicians from the army choir of the Russian Armed Forces, the Alexandrov Ensemble, were aboard the plane, the ministry confirmed.
The musicians were due to take part in a New Year's concert at the Russian airbase in Latakia, Syria.
"Alexandrov Ensemble singers made up the majority of the missing passengers of the Tu-154," a defense source told RIA, adding that 90 members of the choir were supposed to be flown to Syria on two Russian military planes.
"According to preliminary data, the missing Tu-154 arrived in Sochi from Chkalovsky airfield near Moscow for refueling. It is likely that it crashed in the mountainous area of the Krasnodar region," another source told RIA.
Meanwhile, another source familiar with the matter told Interfax that the plane went off radar when the Tu-154 was maneuvering in Russian airspace over the Black Sea, shortly after take off.
"The plane disappeared from radar
approximately 20 minutes after takeoff
," another source told RIA, adding that the plane departed at 5:20am local time and failed to check in with the tower at 5:40am.
The Federal Air Transport Agency (Rosaviation) told RIA Novosti that the flight was "not civilian".
Russian Defense Minister Sergey Shoigu is coordinating the search efforts via videoconferencing. Kremlin spokesman Dmitry Peskov said that Russian President Vladimir Putin has been alerted of the incident and is getting live updates on the search and rescue effort.
Sources on the ground told RIA that technical failure and/or human error are being considered as potential causes of the accident. Meanwhile, TASS reports that weather conditions in Sochi are "favorable" to aviation.
No civilian flights have been cancelled.