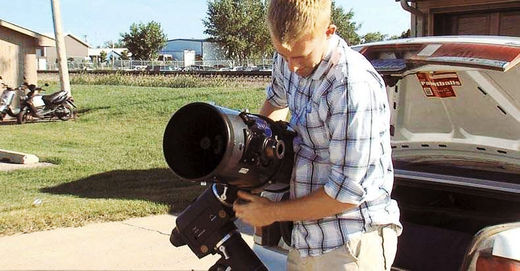 Police in Fargo, North Dakota nearly killed two NDSU students, and it was all because officers thought their telescope was a rifle, and their sweater was a "tactical vest."
University students Levi Joraanstad and Colin Waldera were both setting up the large telescope that happened to look nothing like a rifle whatsoever. They said their intention was to take pictures of the moon behind their apartment garage.
Shortly after they started setting up the telescope, they were blinded by a bright light. They assumed it was local bullies harassing them, so at first they ignored them.
Then the voices of the bullies got louder and told them that they
would be shot if they didn't stop moving.
At this point they no longer thought it was a joke, whoever it was who was harassing them.
Shortly after freezing in place, hoping not to be shot by the local bullies, they were informed that
those armed bullies were in fact police officers.
The
Grand Forks Herald
says that law enforcement sources told them that
"an officer patrolling the area had spotted the two out of the corner of his eye, and thought Joraanstad's dark colored sweater with white lettering on the back looked like a tactical vest and that he might be carrying a rifle."
Joraanstad is now terrified of what could have happened. He thought it was all a prank or bullying.
"I was kind of fumbling around with my stuff and my roommate and I were kind of talking, we were kind of wondering, what the heck's going on?" NDSU junior Levi Joraanstad said. "This is pretty dumb that these guys are doing this. And then they started shouting to quit moving or we could be shot. And so at that moment we kind of look at each other and we're thinking we better take this seriously."
Watch the local report
here
...