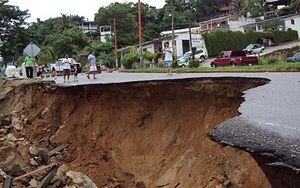 'We can't even see the homes,' survivor says; 8,000 people impacted, more slides feared
Hundreds of people were buried in their homes early Tuesday after a rain-soaked mountainside gave way in southwestern Mexico, officials said.
Donato Vargas, an official in Santa Maria Tlahuitoltepec reached by phone, said 500 people were missing and that 300 homes were buried after the slide around 4 a.m. local time.
"We were all sleeping and all I heard was a loud noise and when I left the house I saw that the hill had fallen," Vargas said.
"It has been difficult informing authorities because the roads are very bad and there isn't a good signal for our phone," Vargas said shortly before the call dropped.
Reached by the news agency AFP, Vargas added that "we fear that those missing are buried inside their homes because we've already searched nearby areas."