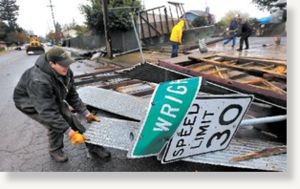 A powerful winter storm raked Northern California on Friday, unleashing a small tornado that tore the roof off a business and bringing heavy snow to the Sierra Nevada that was blamed for a fatal chain-reaction crash on Interstate 80.
The afternoon crash in the mountains 70 miles east of Sacramento involved at least six big rigs and 15 vehicles, California Highway Patrol Sgt. Curtis Fouyer said.
A man who appeared to be in his 60s was found dead, but Fouyer did not know if he was in one of the vehicles crushed by a big rig. Other motorists called police to report they were trapped but uninjured.
"They're still pulling things apart to figure out what's where and get the cars moved," Fouyer said three hours after the crash near Yuba Gap, a popular weekend sledding destination.