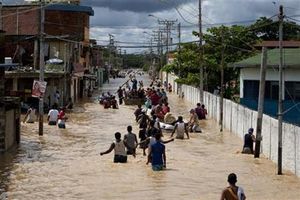 Caracas - Venezuelan security forces have started housing families displaced by floods in tourist hotel rooms following an order by President Hugo Chavez to make use of vacant accommodation, local media said on Monday.
Heavy rains have killed at least 32 people and forced more than 100,000 from their homes in recent days. Emergencies have been declared in various states, and the country's Caribbean coast has been particularly hard hit by mudslides.
In a televised broadcast from one flooded area on Sunday, the president told the National Guard to begin moving families into vacant hotel accommodation.
"See how many buildings there are abandoned by tourists, and from today begin to occupy them with families," he said.
"You will not pay anything," he told displaced people.