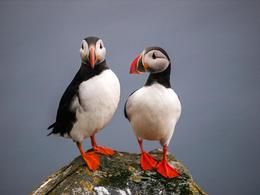 Puffins have suffered in the recent storms in the Bay of Biscay.
The British Trust for Ornithology (BTO
) has received a record number of reports of the birds, wearing uniquely numbered metal rings that identify them as puffins that would have been heading for breeding colonies in the UK, being found dead on the coasts of France and Spain.
In a normal winter, the BTO would expect two or three ringed puffins to be found in France and Spain, but during the past few weeks
more than 35 have been reported
.It is well known that British puffins fly out into the Atlantic for the winter months, riding out the worst of the weather there. As the winter progresses, our puffins make their way into the Bay of Biscay before heading back to their breeding colonies and the burrows that they used the previous summer. Birds found in this current wreck have come from colonies in west Wales, northern Scotland, Orkney and Shetland.Mark Grantham, Ringing Officer at the BTO, commented, "Up until the last couple of weeks it seemed that our puffins might have survived the worst of the winter. However, from the reports of ringed birds that are being washed-up on the Biscay beaches it would seem that the recent storms were just too much for many of the birds."He added, "It is still early days and the number of ringed birds found is likely to rise further, and
we must remember that if more than 35 ringed birds have been found, many un-ringed birds must have been affected, too.
"Bird ringing in the UK is organised by the British Trust for Ornithology and is carried out by licensed volunteers, who ring over a million birds of a wide variety of different species every year. It is the information received from these rings, when found and reported to the BTO, that enables scientists at the Trust to chart events such as this.
For more information and to report a ring number to the BTO, please visit
www.bto.org