Animals
SCOTLAND'S salmon producers have been put on alert due to an invasion of stinging jellyfish which have already wiped out a fish farm in the Irish Sea.
---
BBC
Wed, 21 Nov 2007 20:57 UTC
---
An autopsy has been carried out on one of the 73 dead dolphin bodies found on Jask beaches, south of Iran, ISNA reported on October 29, 2007.
---
RIO DE JANEIRO, Brazil - An 18-foot minke whale ran aground on a sandbar in the Amazon jungle some 1,000 miles from the ocean, Brazilian media reported Friday. Globo television broadcast images of dozens of people gathered along the Tapajos River splashing water on the animal, whose back and dorsal fin were exposed to the hot Amazon sun. Sea creatures rarely venture so far into fresh water.
---
GENEVA - The world's smallest bear species faces extinction because of deforestation and poaching in its Southeast Asian home, a conservation group said Monday.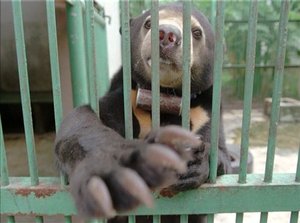 ©AP Photo/Richard Vogel, File
A 9-month-old baby Asian sun bear reaches out through his cage at his new home at the Wildlife Division of the Thai Forestry Department in Banglamung.
---
BEIJING - Giant pandas are being forced to move from a remote mountainous area in southwestern China due to food shortages as their staple bamboo withers, an animal expert said Monday.
---
Experts said it will take six months for oil products spilled into the Black Sea and the Sea of Azov at the weekend to dissolve or be washed ashore.
About 2,000 metric tons of oil, and almost 7,000 tons of sulfur in containers, were spilt into the sea amid a powerful storm on Sunday that killed at least six sailors, sank four ships and split open an oil tanker.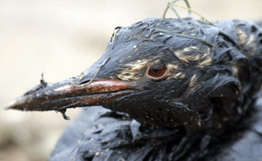 ©Unknown
"Most of the fuel oil will settle on the bottom and will be thrown ashore gradually," said Vitaly Spiridonov of World Wildlife Fund Russia, adding that the seabed's fauna and flora would suffer the most.
---
---
More than one out of every three freshwater fish species in European waters is on the brink of extinction, conservationists announced today.

After seven years of research, scientists with the World Conservation Union (IUCN), based in Switzerland, found that 200 of the 522 (38 percent) species of European freshwater fish are threatened with extinction due to rapid development in Europe over the last 100 years. Twelve species are already extinct.

The survey, detailed in a book, Handbook of European Freshwater Fishes, also found 47 new fish species, but this biodiversity is threatened in many of Europe's lakes and rivers.

"This new study shows that we are far from achieving European governments' targets to halt biodiversity loss by 2010," said Jean-Christophe Vie of the IUCN's Species Program. "The status of fish populations reflects the condition of European lakes and rivers."
---
Unexplained honeybee deaths have recently started showing up in Florida, the same state where the mysterious Colony Collapse Disorder was first discovered a year ago, the Agriculture Department's top bee scientist said Thursday.
Comment:
Something is certainly up with our helpful insect friends. We have discussed this topic here at SOTT several times and recommend you read
To Bee or not to Be
for plenty of explosive material to ponder on.
Here's a short excerpt:
This really is BIG, people! Do you realize how CLOSE you are to the total collapse of whatever lifestyle you have, including having food on your table (let alone having a table to put it on or a house to keep the table in!)

Don't yawn because the habits of bees might be boring and it certainly isn't as entertaining as TV or whatever mindless thing you do and call it entertainment.

If you read every word I have written and assembled here, you will know more about global agriculture than you probably ever thought you WANTED to know, but just now, you had BETTER know it because YOUR life depends on it!

The fact is, the disappearing bees are giving you a gift, right now, a choice if you will only take the time to read and learn.
---