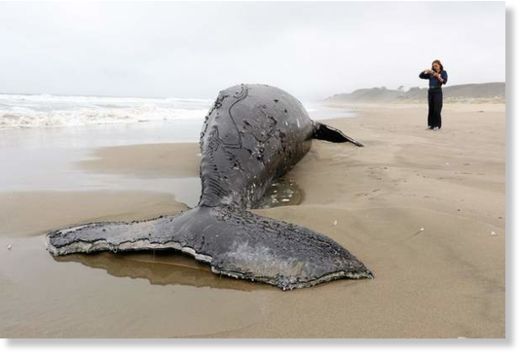 Two gray whale carcasses washed up in Santa Cruz County this week, prompting Long Marine Lab officials to investigate their deaths.
The whales — one at the northern end of the county and the other at the southern end — were first reported Wednesday, but officials couldn't conduct necropsies when they were reported because of the tide, said Terri Sigler, marine mammal stranding coordinator for Long Marine Lab.
A necropsy conducted Thursday on a 40-foot adult gray whale that washed ashore near Waddell Beach near Davenport couldn't determine the cause of death, Sigler said.
The team did say there was no evidence of the animal dying because of a ship strike or entanglement and likely was dead for at least a couple of days, she said.
"Because of the incoming tide, the necropsy was curtailed," said Sigler, though an abridged version was performed.
The team won't likely return to conduct a second necropsy on the animal because it's in a precarious location.
A second gray whale at Pajaro Dunes in South County, a 23-foot yearling, had killer whale teeth marks across its body and was missing its tongue and jaw.
Though officials have yet to conduct a necropsy, the cause of death was likely orcas, based on the whale's injuries, Sigler said.
"This time of the year, it's not uncommon for calves and smaller whales to be predated on by killer whales," she said.
The gray whales are on their northern migration route from Baja California in Mexico to their feeding grounds in the northern waters of Alaska, said Nancy Black, a marine biologist and owner of Monterey Bay Whale Watch.
Black spotted the gray whale carcass floating in the water when she took a tour group out Monday morning. The group watched as a pod of four orcas pulled the carcass down into the water to eat it, Black said.
Black said the whales likely killed the calf between Sunday night and Monday morning.
"I was thinking it was particularly spectacular to know that only four killer whales were able to do this," she said. "Often times, there's maybe 10 to 15 killer whales doing this."
The territory is prime hunting ground for the orcas because of the submarine canyon that bisects the shallow coastal waters along the shore.
"At some point, (the gray whales) have to cross the deep water. The killer whales patrol the canyon, going back and forth along the edge of the canyon," she said.