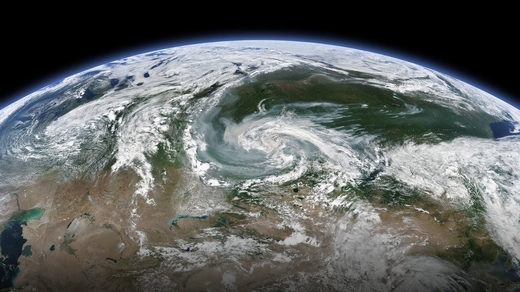 An unprecedented number of wildfires have been ravaging the Arctic for weeks following the hottest June ever recorded on Earth. Now,
the fires are so huge and intense, the smoke can literally be seen from space.
Satellite images show
more than 100 long-lived wildfires with huge plumes of swirling black smoke covering most of the Arctic Circle including parts of Russia, Siberia, Greenland and Alaska
.
The wildfires have now reached "
unprecedented levels,
"
according
to Mark Parrington of the EU's Copernicus Emergency Management Service, who said
the smoke vortex is covering a "
mind boggling
" two million square kilometers
.
Wildfires are burning across 11 regions in Russia with the largest covering Irkutsk, Krasnoyarsk and Buryatia.
Likely caused by lightning strikes
, as of July 22 they have burned 320 square miles (829 square kilometers), 150 square miles (388 square km) and 41 square miles (106 square km) in the regions, respectively, according to
NASA's Earth Observatory
.