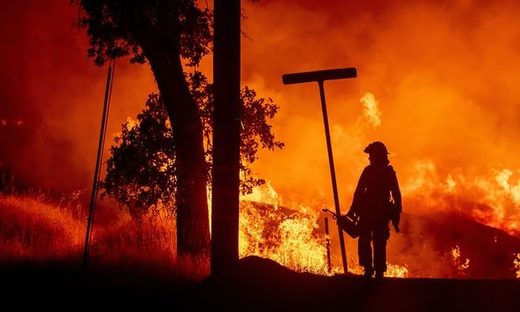 At least three dead and thousands evacuated as officials worry potentially devastating fire season has only just begun
At least three people have died and thousands have been evacuated in California as eight active wildfires continue to burn across the state. More than 3,000 firefighters have been deployed to contain the flames, and the destruction is expected to worsen throughout the weekend as high temperatures and dry conditions inhibit efforts.
The state governor, Jerry Brown, has declared a state of emergency in northern California's Shasta county, and in southern California's Riverside county, to help provide local fire crews with the resources they need to battle the blazes. Donald Trump has not yet commented on the fires.
Redding, a city of 92,000 near the Oregon border, is at grave risk from the Carr fire, which has so far killed two people. The fire is only 3% contained and has already scorched more than 44,450 aces. "Really, we're in a life-saving mode right now in Redding," said the Cal Fire battalion chief, Jonathan Cox.
"We're not fighting a fire. We're trying to move people out of the path of it because it is now deadly, and it is now moving at speeds and in ways we have not seen before in this area."
The Carr fire erupted on Monday 23 July and is being propelled by "extreme fire behavior and challenging wind conditions", according to CalFire officials. The blaze continues to threaten nearly 5,000 structures and 65 buildings have already been incinerated.