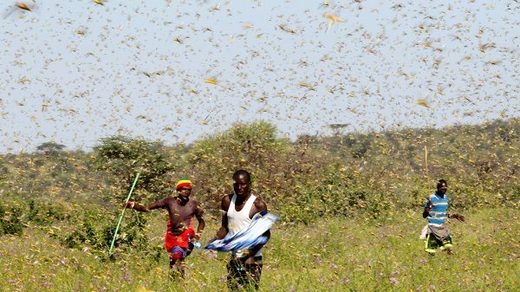 Giant swarms of locusts may descend on both sides of the India-Pakistani border around spring-summer this year, a UN locust monitor said, amid an unprecedented plague already affecting the black continent.
Gargantuan tribes of desert locusts have been terrifying the residents of Yemen and Saudi Arabia and laying waste to countries in the Horn of Africa. UN's Food and Agriculture Organization (FAO) calls the outbreak worst in 25 years for the Eastern Africa and
worst
Kenia in particular faces in 70 years.
After multiplying in the Horn of Africa, the swarms may migrate to Hindustan, where they may deliver a twin strike together with freshly hatched locust from southern Iran, FAO's Senior Locust Forecasting Officer Keith Cressman told IANS news agency on Monday.
"There is a potential risk that the swarms can move from the Horn of Africa, starting in about mid-May until about some time in July to meet those monsoon rains that arrive in Rajasthan in India and Cholistan-Tharparkar in Pakistan," he said.