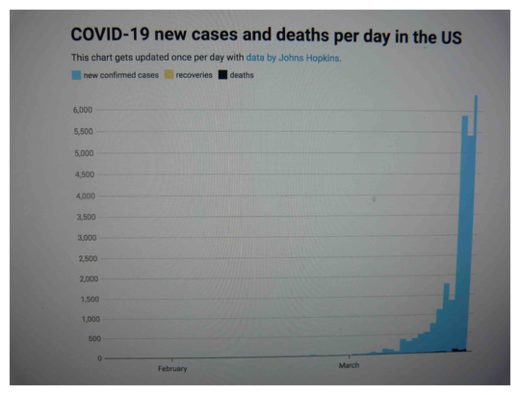 Hysterical headlines today - Sunday, March 21 - about the number of Americans
supposedly
identified as having been infected with Coronavirus. The modifier
supposedly
used because the tests being used to identify the virus are of dubious reliability. But, regardless - 25,493 as of today. A big number, banner-headlined across the Internet.
But there's
another
number you have to look for, which
isn't
being banner-headlined around the Internet.
307.
That's how many Americans have
supposedly
died from WuFlu so far.
The modifier added - and italicized - to emphasize the fact that it is not known whether it was the WuFlu that killed all these people or old age/underlying infirmity pushed over the edge by what would otherwise have just been a nasty cold.
But regardless, 307.
It is not a big number . . . relative to the
other
number. See the graph (above) accompanying this article, which is not the product of a "conspiracy" web site but rather using data compiled by Johns Hopkins, widely accepted to be a reputable source for medical data.
Note that the "death curve" isn't.
While the number of people infected - or supposedly identified as being infected - has indeed gone up, the number of people dying (see
here
for data regarding
that
) has not gone up proportionately. About 60 people more are reported dead over the past 24-48 hours as opposed to many thousands of people newly tallied as Corona-infected.
This is really important - and very
good
- news.