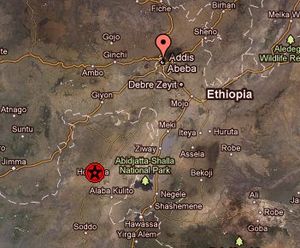 With thanks to a number Ethiopian readers of Earthquake-Report.com we are able to develop a view on what happened exactly during yesterdays earthquake in Ethiopia. We truly thank our readers for their involvement.
The Ethiopian Addis Abeba university published a report that the earthquake occurred in and around Hossana and had a Magnitude of 5.3. It happened at 3:15 local time.
Following ENA (
Ethiopian News Agency
) the earthquake lasted 19 seconds and was felt very well in the greater Hossana area.
Some traditional old earthen houses were demolished as a result of the earthquake
Some houses erected with modern materials were left with cracks in the walls.
No people were killed and it is uncertain if people have been injured.
Here are a few of the reports from our readers (they can also be read below our main article published shortly after the earthquake)