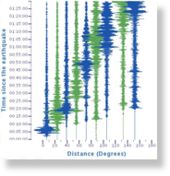 Many residents of Upper Galilee wake up as mild earthquake hits Israel. 'I felt the bed literally shaking,' Safed resident says.
A mild earthquake was felt in northern Israel early Tuesday, many residents reported. The Geophysical Institute reported an earthquake measuring 3.6 on the Richter Scale was felt in the Moshav Avivim area at 4:32 am. No injuries or damage were reported.
Yael of Safed said the quake caused her to wake up as she felt her house move. "I got up and felt the bed literally shaking under my stomach, actually moving. I can't fall back to sleep I'm so afraid."
Yael noted that some of her neighbors also woke up and added no damage was caused.