[Note: We're rerunning this 2009 article (with 2013 update below) for consideration in light of the missing Malaysian Airliner.]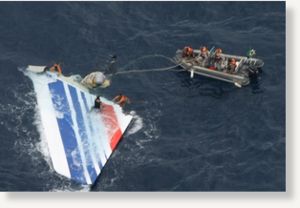 Air France Flight 447 en route from Rio de Janeiro to Paris disappeared over the Mid-Atlantic (just north of the equator) at approximately 1.33UTC on June 1st 2009.
No mayday signal was received from the aircraft and almost two weeks later, aviation officials have yet to give a coherent explanation as to what could have caused the sudden demise of a high tech Airbus 330-200 passenger plane.
As usual, the media are missing (or concealing) some very obvious yet understandably disturbing data about the nature of the threats to life on planet earth, and as usual, it is left to Sott.net to spell out the details.